After years of back-and-forth plans, re-brands and a name change, crews are finally breaking ground on Chicago's Bloomingdale Trail, the centerpiece of the long-awaited elevated park project.
Story continues below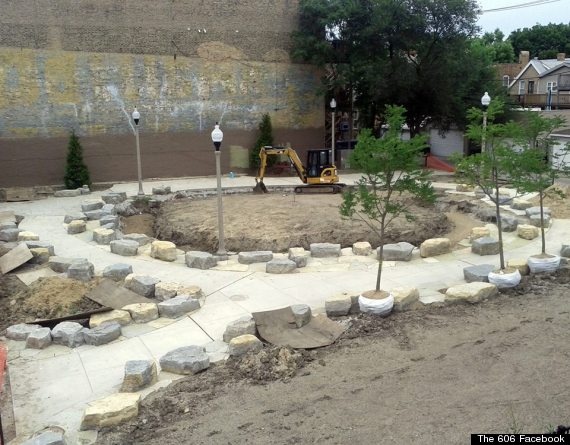 Credit: The 606 Facebook
After city officials awarded the $53.7 million construction contract last week -- to a firm the Sun-Times called "one of Chicago's largest and most clout-laden" -- work on the 2.7-mile stretch of the formerly active rail line began Tuesday.
"[The Bloomingdale Trail] is going to do, in my view, for our neighborhoods what Millennium Park has done for our downtown," Mayor Rahm Emanuel said during a the Tuesday afternoon groundbreaking. "It will transform the neighborhood in a way no single investment can. It will bring neighborhoods together in a united, unified way."
Emanuel said the trail "won't be just for biking, walking, hiking and nature," but said it will also be a route for children to safely travel to school.
(Read: All Aboard! Abandoned Railroad Tracks Gain New Life as Green Trails)
Well before the groundbreaking, everyone from real estate investors (hint: the trail is expected to boost nearby property values) to roving trespassers (kids setting fires) have been interested in the city's newest park-in-progress.
Emanuel said the complete project will add at least 15 new acres of park land to the city, part of an ambitious plan to put every child in the city "within a 7 minute walk of a new park facility in Chicago."
The trail is the centerpiece of the "606" park project and runs along Bloomingdale Avenue from Ridgeway Avenue on the west to Ashland Avenue on the east and connects Bucktown, Wicker Park, Logan Square and Humboldt Park. The first stage of the estimated $91 million project, which includes five neighborhood parks as entryways, is slated to open in late fall of 2014.
The mayor, who said he's looking forward to riding his bike on the trail, noted Tuesday, "This will be a landmark piece of investment, this project. We're taking something that's a century old and building something for the next century."
BEFORE YOU GO
PHOTO GALLERY
The Bloomingdale Trail Is Now 'The 606'