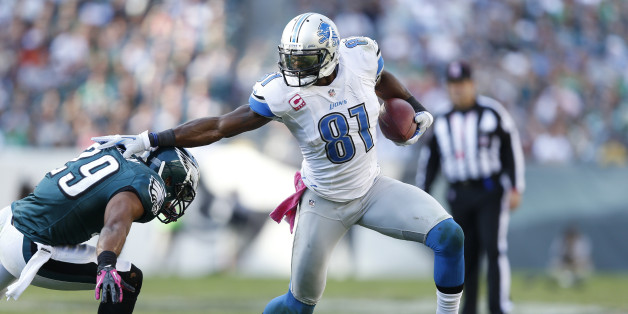 Perhaps the best way to chart the rise of wide receivers in fantasy football is to take a look back at average draft position through the years. In 2007, the first wide receiver wasn't coming off the board in 12-team standard leagues until the 15th overall selection, according to historical ADP data at FantasyFootballCalculator.com. The Panthers' Steve Smith had the highest average draft position of any receiver that season at No. 15. After Smith came off the board, there was apparently a mini-run on pass catchers, with Chad Johnson, Marvin Harrison and Terrell Owens all squeezing into the top 20 that year. By 2010, five of the top 15 picks were wide receivers as pass-happy NFL offenses and running back platoons brought a shift to fantasy football.
In 2013, we live in the age of Megatron. While the average draft positions for 2013 are still fluid as leagues continue to draft, there is little doubt that Calvin Johnson won't last long and that a few of the game's top wideouts will be close behind him. To make sure that you don't miss out on the most promising players at the position, we've scoured the expert rankings.
In order to provide a comprehensive appraisal of players that you'll be drafting for your fantasy squad, we've poured over several of the most popular -- and, hopefully, prescient -- rankings available on the Internet* from places like ESPN, Yahoo!, CBS, and SI.com to create a one-stop look at the combined wisdom of many of the foremost fantasy experts. The rankings below were created by determining the average overall ranking assigned each player in the sources consulted. For each player, we've noted his average overall ranking as well as the highest and lowest value he received.
*List of sources consulted
NFL.com's Preseason Top 200 Player Rankings
Fantasy Sharks Top 200 (via USA Today)
SI.com Fantasy Football Top 300
ESPN Senior Fantasy analyst Matthew Berry's Top 200
Yahoo! Sports Composite Top 200
CBS Senior Fantasy Writer Nathan Zegura's Top 200
PHOTO GALLERY
Top 25 Fantasy Wide Receivers
NOTE: Rankings collected on Aug. 26
BEFORE YOU GO