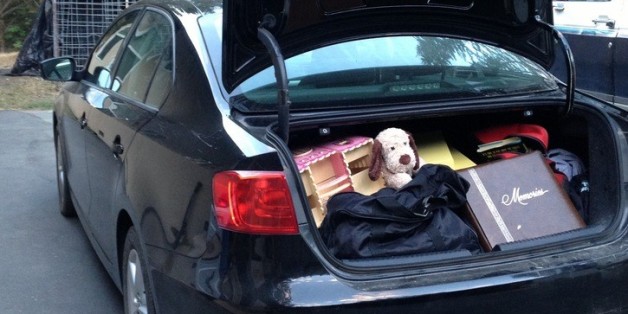 Groveland, Calif., resident Karine Matter has already packed the suitcases into her car. Photo albums are stacked near the front door. Coolers wait to be filled with food from the fridge. If firefighters can't stop the Yosemite rim fire before Greeley Hill, a few miles south of her home, Matter and her husband will have to evacuate their two young children for a third time in a little over a week.
The first time was Aug. 19. By then, the rim fire had been raging for two days and showed no signs of being contained. Her husband, a contractor who works about an hour away in the city of Murphys, called and said she and the children needed to leave right away. Emergency responders had just closed a road that was one hill away from their property.
Matter, a 47-year-old mother of six, gave herself just one hour to prepare. She had to decide what she couldn't live without and what would be left behind. In a phone interview with The Huffington Post, she described choosing the few items she would save from a potential fire. It was something she asked her two youngest children, ages 5 and 7, to help do. (Her four other children are adults and no longer live at home.)
"You have to think for the children," Matter explained. "I asked them to pick two favorite toys, two stuffed animals and a couple of books." She packed her children's treasures, along with their clothes, in a suitcase.
"It was just very scary -- it's almost like you just lose your brain," Matter continued. "You have to decide: what can I live with, and what can't I live with? Ninety percent you can get again, but it's that 10 percent."
Matter, a photographer, had irreplaceable 11-by-14 black and white photos of all her children that she hand-colored. She was so nervous that she called a friend to help her pack.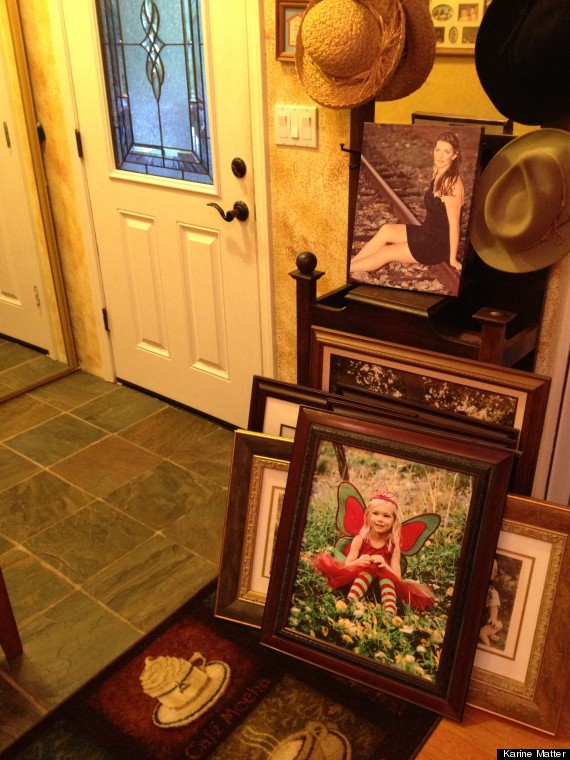 Photo of the front door courtesy of Karine Matter.
"I couldn't even think straight ... For us, those are the things that are valuable. Those and photo albums for the individual kids, and a family photo album," said Matter. When he got home, her husband Don Matter concentrated on paper work: mortgage company files, slips for the car, and other important documents.
Matter and her family stayed in neighboring Pine Mountain Lake, about eight miles away, in a home where a friend and her four oldest children live. It was a tight fit. After three days Matter's family moved home again, after her husband sounded the alarm from Murphys that the fire was now approaching Pine Mountain Lake. It's now been five days since their last move. But they're prepared for a third evacuation.
The map below shows the Rim Fire highlighted in red with data from the California Fire Map. The yellow pins indicate the Matter home in Groveland and their friend's home in Pine Mountain Lake.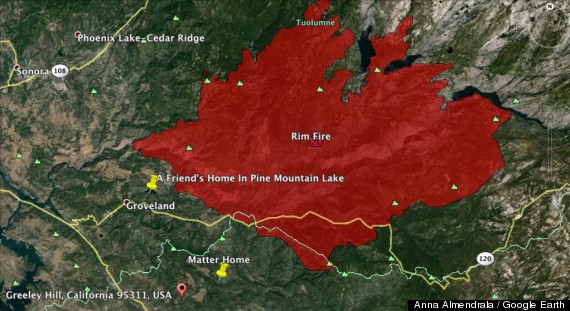 "The middle of Tuolumne [County] is burning up, and so it's hard to even think about who we might be able to stay with if we were mandatorily evacuated," Matter said. "They're all doing the same things we are."
For now, the Matters wait it out in their home amid the thick black smoke. She said she's concerned about long-term effects the smoke may have on her family, but has no where else to go.
"The economy is so hard up here for construction workers," Matter explained. And since the fire started on Aug. 17, everyone who had booked time at their vacation rental property has canceled.
"That [rental money] was really helping us, and I don't have the financial means to take off and drive to my parents in Southern California," Matter said. "I'm kind of stuck where I'm at.
As of Tuesday evening, firefighters had contained 20 percent of the rim fire, but the number of destroyed structures rose to 101, reports The Associated Press. An estimated 4,500 structures remained threatened.
CORRECTION: A previous version of this story miscounted the number of days the wildfire had been burning. We regret the error.
BEFORE YOU GO