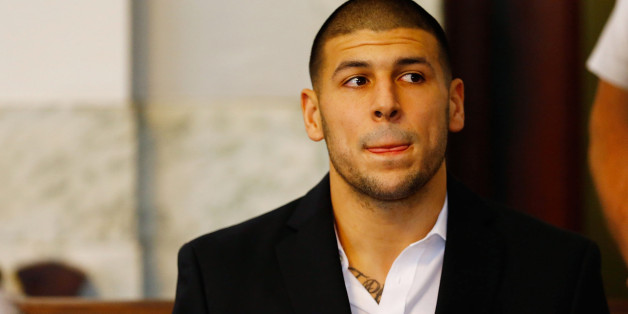 In the weeks since former New England Patriots tight end Aaron Hernandez was arrested and charged with murder, more aspects of his dark and violent past have come to light. Rolling Stone magazine has promised several more revelations in a forthcoming piece titled "The Gangster in the Huddle," including that Hernandez was a "heavy user of angel dust." According to the Rolling Stone report, Hernandez also frequently carried a gun because he had become increasingly paranoid.
Rolling Stone contributing editor Paul Solotaroff has written a piece that the magazine is billing as "a detailed investigation into Aaron Hernandez's life." Five revelations from the article that will appear in the most recent issue of Rolling Stone were teased on the magazine's website on Tuesday. Two of the topics mentioned that are surely pique interest involve alleged drug use and the claim that former Florida football coach Urban Meyer "helped cover up failed drug tests, along with two violent incidents" while Hernandez was in Gainesville. Meyer had previously denied that failed drug tests were covered up in texts to The Columbus Dispatch and The Gainesville Sun.
Hernandez was arrested at his home in North Attleborough, Mass. on June 26. He was soon charged with murder in the death of 27-year-old semi-pro football player Odin Lloyd. Hernandez would plead not guilty and be denied bail. Hernandez was formally indicted by a grand jury on a first-degree murder charge in the death of Lloyd on Aug. 22.
BEFORE YOU GO
PHOTO GALLERY
PHOTOS: The Aaron Hernandez Case