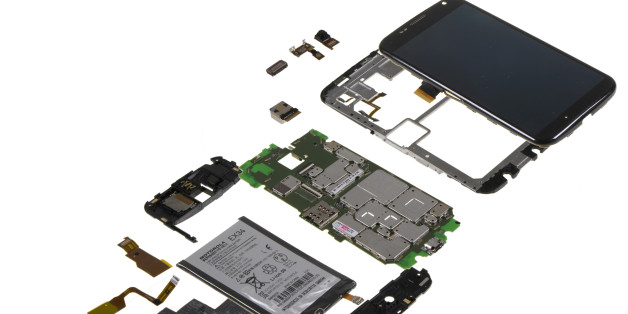 Defying conventional wisdom that high-tech gadgets can't be made in the U.S. without massive price increases to consumers, a large electronics company is building its marquee phone in Texas and spending less than its competitors to do so.
That's according to research firm IHS, which analyzed how much Motorola is spending to produce its new line of Moto X smartphones in the country. U.S. production allows Motorola to produce its device at a lower cost than some competitors, IHS estimates. Making the phone in the country also allows the company to offer special-order phones more quickly, and brag about patriotic manufacturing, IHS notes.
In a report released late Tuesday, IHS estimated that it costs Motorola about $226 to produce the Moto X, including $12 in labor costs. While the amount paid to workers in Motorola's Texas factory is substantially more than what laborers get in the Chinese factories that put together smartphones for many other companies, IHS found, that cost is not making the Moto X more expensive than its rivals.
The phone is competing as a lower-cost alternative to Apple's iPhone 5 and Samsung's Galaxy S4. IHS estimated those phone brands cost $207 and $237 per phone to produce, respectively.
Motorola has been able to achieve its pricing feat by focusing on the customer experience the phone delivers, rather than jam-packing the device with the most cutting-edge technology, IHS told CNET.
Motorola could be saving between $3.50 and $4 per phone were it to manufacture in Asia, IHS estimated. By moving production facilities to the U.S., however, the company is able to offer customized phones to U.S. consumers within a matter of days. Customers can, for example, personalize their phones with color palettes, patterns, and engravings. Wayne Lam, a senior analyst for wireless communications at IHS, said in a statement accompanying the report that the delivery of customized phones can happen "in just four days."
Motorola is also buying a fair amount of goodwill with its move, IHS said.
"With the Moto X, Motorola is reaping the public-relations and customization upsides of producing a smartphone in the United States," Andrew Rassweiler, a senior director at IHS, said in a statement.
Motorola is not alone among companies that have recently decided to bring manufacturing jobs to the United States from Asia, a haven of cheap production costs for much of the past two decades. Rising Chinese labor costs, concerns about theft of business secrets and logistical issues have prompted companies like Dow Chemical, Caterpillar, GE, and Ford to start moving some manufacturing back to the U.S..
Producers of high-tech consumer products have been slower to make the change, however. Famously, the late Apple CEO Steve Jobs told President Barack Obama in 2011 that manufacturing jobs outsourced by the company to Chinese firms "aren't coming back," according to The New York Times.