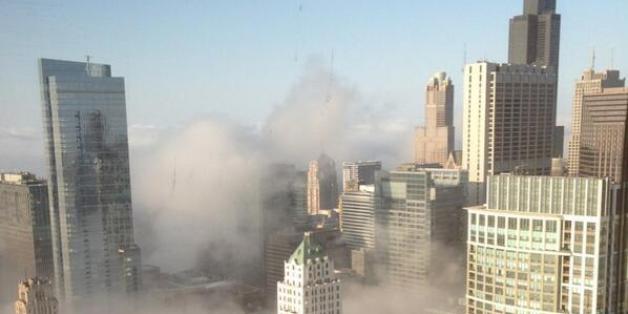 The weekend is still a day away, but Chicago looked awful sleepy -- and spooky -- early Thursday.
A low-hanging fog crept around the Windy City throughout the day, sweeping over the river, Soldier Field and out to the lake. Below, we gathered a few samples from the city's ever-intrepid Tweeters (and visitors) who snapped gorgeous and occasionally eerie photos of the Chicago looking like something out of a John Carpenter movie.
From up in the sky:
Layover in Chicago encased in fog this pics from the plane #awesome #windycity pic.twitter.com/azdPhCwobK

— sean telford (@gatorswimmer) August 29, 2013
From right around HuffPost Chicago's HQ!
Fog starting to burn off in #Chicago this morning. @JimCantore @Skilling pic.twitter.com/GAmEAoeK9P

— Brendan Bond (@bbond32) August 29, 2013
From some unknown sky palace:
#Fog over the #city this morning! #chicago #windycity pic.twitter.com/fLbnCuMGu0

— EricWilkerson (@EricWilkerson) August 29, 2013
From a chopper on the South Side:
RT @CBS2Greg: Lakefront fog from @cbschicago chopper 2. http://t.co/7c3dbtWhgM pic.twitter.com/p75zjBDtg0

— CBS Chicago (@cbschicago) August 29, 2013
From the cheap seats:
Fog rolling in over North endzone at Soldier Field. #Bears #Browns pic.twitter.com/CAl4D8EY1p

— Jeff Dickerson (@ESPNChiBears) August 29, 2013
From an undisclosed demon-proof bunker:
The fog on Lake Michigan. It's been like this all day. I'm afraid when I go outside a demon will eat my face pic.twitter.com/YRel1hLCTU

— Martin Barron (@MartinLBarron) August 29, 2013
BEFORE YOU GO
PHOTO GALLERY
13 Inspiring Photos Of Chicago