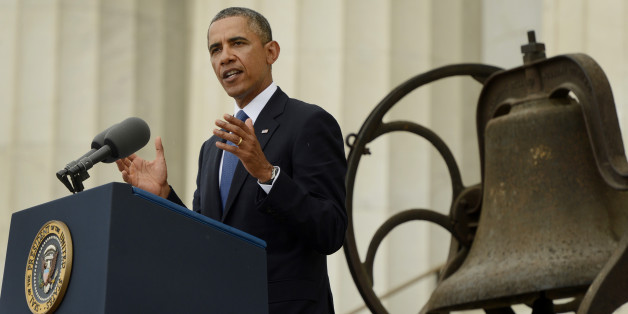 Exactly half a century after Martin Luther King, Jr. delivered his iconic "I Have A Dream" speech, President Barack Obama stood on the same spot on the steps of the Lincoln Memorial and addressed the civil rights legacy that King and others have built.
(Watch Obama's speech below, or read the entire transcript here.)
The New Yorker's Jelani Cobb wrote a piece following the speech, examining how Obama -- as both an African American and the nation's first black president -- fits in to the civil rights movement himself. It leaves us with both important questions and answers, and we think it's the smartest thing ever written on the topic:
For the entirety of his Presidential career, Barack Obama has attempted to reconcile the competing strains of "We Shall Overcome" and "Hail to the Chief." At the outset of his Presidency—and in ways he spoke of explicitly Wednesday in his speech before the Lincoln Memorial—there was a causal relationship between those ideals: his election is the ultimate validation of the audacity at the heart of the simple creed about overcoming that drove the civil-rights movement. Yet Obama's speech marking the fiftieth anniversary of the March on Washington also laid bare the contradictions in those two themes and raised a dispiriting question: Has a black Presidency moved us closer to the ideal of King's dream, or reflected its exhaustion as a real possibility?
Read Cobb's entire piece here. Be sure to share it around.
Watch Obama's entire speech:
BEFORE YOU GO
PHOTO GALLERY
March on Washington 50th Anniversary