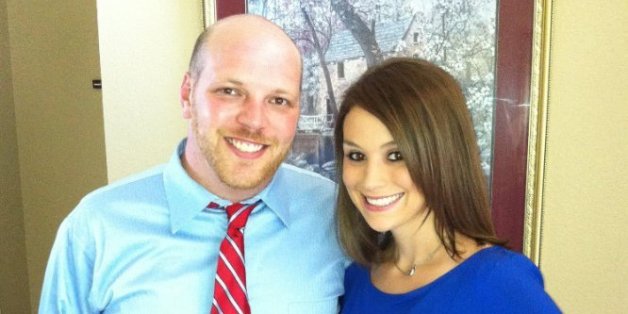 The night you first met your now-fiancé or spouse will go down as one of the most pivotal nights of your life -- even though you probably didn't realize it at the time! Maybe it was love at first sight for both of you, one of you or neither of you. Maybe you started out as co-workers or study buddies or two people who hated each other's guts. In any case, each of you probably has a different take on that very first encounter. For our The Night We Met series, we're asking engaged or married couples to each tell us their version of that fateful day or night. Have a good story to share? You can send it to weddings@huffingtonpost.com. Each partner should send us one paragraph telling the story from his/her perspective. Meet our latest couple below!
In November 2012, Brittany thought she was accompanying her pregnant cousin to a maternity photo shoot at the Chinese Lantern Festival in Dallas. It seemed like an odd location to take the pictures and she couldn't figure out why it was happening after dark -- but she didn't want to question a woman who was eight months pregnant (smart girl!). While they were walking around the festival, she saw a guy in a suit who looked a hell of a lot like her boyfriend, Jeremy, standing in a candle-lined pathway. It took her a couple of seconds to register what was happening.
"I was so excited that I barely remember what Jeremy said, or even if I said 'yes,' but the next thing I knew there was a beautiful ring on my finger and we were laughing and hugging," she told The Huffington Post. "I turned around to see not only my cousin, but Jeremy's sister and her husband, and Jeremy's good friend taking pictures. It was perfect."
After nearly six years together, the Frisco, Texas couple tied the knot in July 2013. Find out how they originally got together below:
His version:
I first saw Brittany at a mutual friend's party and thought she seemed like a fun girl. I wasn't looking for a relationship, but I thought my fraternity brother, Cody, would be great for her. My roommate was dating one of her friends, so I convinced her friend to bring Brittany to a hockey game so I could set [Brittany up with my frat brother], thinking it was the perfect opportunity for them to get to know each other.

The night of the game, I was yelling funny insults at players like I always did, just being myself. I hadn't intended to meet a new girl. But Cody never showed up. So I was "stuck" entertaining Brittany.

I started talking to her and quickly realized how nice she was. I wanted to be a good friend to Cody, though, so I decided to get to know her, just in case things ended up working out for them. I asked her the most random questions, like her favorite movie quote, just to see how she answered them -- that way I could report back for my bro. Honestly, by the end of the night, I just thought she was a cool girl -- I didn't think anything else of her. But I was glad that my brother stood Brittany up.

It wasn't until the next day that I found out why Cody never showed -- he had decided to take a nap instead. I told him not worry though, because he was about to get another chance. I had just gotten a text from my roommate that Brittany was throwing a party. So when I got home I started getting ready for the night. That's when my roommate walked in and started asking me questions about Brittany and I found out that she liked me. So the first thing I did was call Cody to let him know and he just laughed because he had made other plans and wouldn't have been able to go to her party anyway. Two words: his loss!
Her version:
Jeremy and I went to a relatively small college (Midwestern State University in Wichita Falls, Texas) where we were both active in Greek life. I saw him at different events and around campus, and as time went on, I always thought of him as "that balding guy who everyone loves."

Halfway through my sophomore year, my sorority and Jeremy's fraternity had a mixer together and we were finally properly introduced. Again, I thought he was a ton of fun to be around, always the life of the party, but I wasn't looking for a relationship. I was 19, too young to settle down (or so I thought).

My sorority sister, roommate and close friend asked me one night to go to her boyfriend's hockey game. I didn't really want to go because I was already in my pajamas studying for a test, but then she told me, "That Jeremy guy really wants you to come." Naturally I thought he was interested, why else would he want me to come?

I went to the game with my friend and took my seat next to Jeremy, where we joked and chatted and laughed. By the time we left the game, I couldn't stop thinking about him. I had a party at my apartment the next night just so I could hang out with him again. That night, we texted until about 4 am, and I knew he was someone special.

It was pretty embarrassing to discover a few months later that I was actually stood up and Jeremy was "stuck" with me that night. Nevertheless, we continued talking, hanging out, and were eventually attached at the hip. I would have never, in my wildest dreams, imagined that the bald, funny guy I saw around campus would be my husband one day. I'm so thankful I not only went to that hockey game, but was stood up as well.
Click through the slideshow below for photos of the adorable couple throughout their relationship.
PHOTO GALLERY
Brittany & Jeremy
Keep in touch! Check out HuffPost Weddings on Facebook, Twitter and Pinterest.