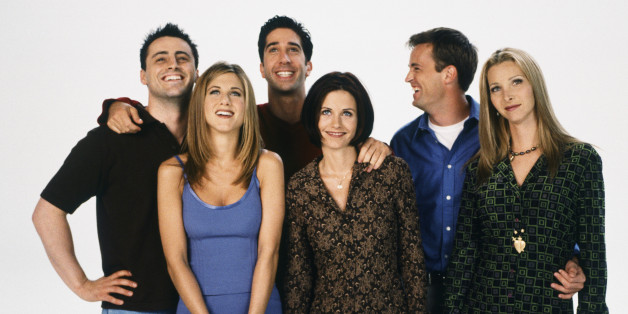 The finale of "Friends" was almost 10 years ago, yet the jokes and relationships remain as relevant as ever. Sometimes we forget that the show took place from 1994 to 2004, before many things we use on a daily basis were even created. Here are some of the ways today's inventions would have changed the lives of Ross, Monica and the rest of the gang.
Ross and Rachel could never change their Facebook relationship status to "It's Complicated." That would have really cleared up that whole "we were on a break" thing.
Joey could never use Tinder to find the nearby hotties. He had to find them the old-fashioned way.


When Monica and Chandler were hiding their relationship, they probably wish SnapChat was invented for nude photos, since they would disappear in 10 seconds. Then Joey never would have found the naked photos Monica printed.
Instead of yelling "I'm engaged!" from the rooftop, Monica could have simply tweeted in her post-engagement bliss.
When the Knicks weren't doing so hot, Joey could never flip channels to see the Brooklyn Nets playing at Barclays.
Finding food ratings in the Village would have been tougher, since Yelp wasn't invented yet.
Even if the cronut had been invented, Joey wouldn't have shared it.
Monica could never exercise her overly organized habits on Pinterest boards.
Chandler's dad and Phoebe's gay ex-husband never could have gotten married. The same-sex marriage law passed in Massachusetts 11 days after the final episode premiered.
If Monica wanted to remember one of her beautiful culinary creations, she couldn't just upload it to Instagram with an Amaro filter.
None of the six characters would be able to pick Justin Bieber or Kim Kardashian out of a crowd.
Ross playing Words With Friends? Joey wanting to pay Chandler for his bills through Venmo? Rachel trying to find fashion deals on Gilt? Phoebe playing Angry Birds? Monica making a reservation on Open Table? None of these were possible, since apps and iPhones had yet to be invented.
Phoebe never could have uploaded her original songs to a YouTube channel.
Nothing on TV? Too bad there wasn't Netflix to find something better.
BEFORE YOU GO
PHOTO GALLERY
Jennifer Aniston