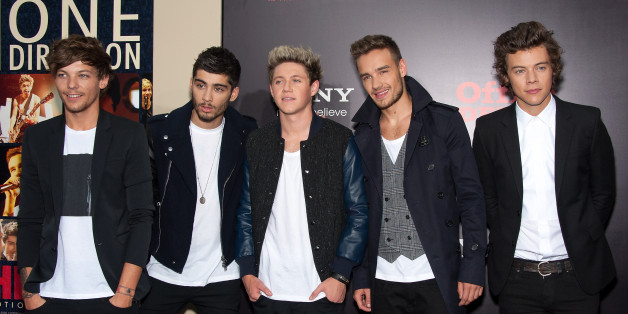 Boy George thinks odds are that every single member of British boy band One Direction is bisexual.
The '80s legend recently spoke with the United Kingdom's Daily Star about the pop world today. He said he thinks Justin Bieber and Rihanna are heading down the wrong paths. In addition, he said he has little regard for the boys of One Direction -- Niall Horan, Zayn Malik, Liam Payne, Harry Styles and Louis Tomlinson.
"I wouldn't know who One Direction were if they fell on my head," George said. "I'm older than them, they should treat me with respect. I blocked all the band, I couldn't be bothered to hear anything they said but I couldn't help winding up their fans."
George was referencing the backlash he received following a Twitter spat with Payne at the BRIT Awards in February. The 1D member supposedly refused to stop to take a photo with the 52-year-old's niece. Apparently One Direction fans joined in on the tiff.
"One tweeted me saying: 'My mum says you're a horrible old has-been.' I tweeted back saying: 'Your mum's probably an old, fat ugly b***h,'" George said. "I was having such a laugh, fighting with One Dir­ection's fans all night. I did say some vile things, I had too much sugar. But I really enjoyed it."
"The odds are one of One Direction must be gay," George continued to the Daily Star. "I think everyone is a bit bisexual deep down, so the odds are they are probably all bisexual. They're rock stars so it's what you'd expect, isn't it? I'd be disappointed if they weren't. Tattoos don't make you butch. Look at me."
This is not the first time One Direction's sexuality has come up. Former NSYNC member Lance Bass previously said "statistically speaking, one probably is [gay]." Some have even speculated there is something going on between Styles and Tomlinson or Styles and Radio 1 DJ Nick Grimshaw.
Styles addressed the issue of bisexuality in the September 2013 issue of British GQ, saying, "Bisexual? Me? I don't think so. I'm pretty sure I'm not."