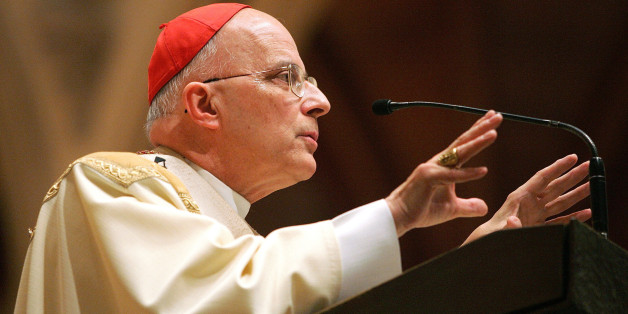 Chicago Archbishop Cardinal Francis George is no stranger to being in the headlines for his opposition to same-sex marriage -- but comments made in a recent interview show his position on the issue goes beyond his faith.
In an interview with the Chicago Sun-Times' Mark Brown, Cardinal George doubled down on his opposition to marriage equality, adding that he does not see same-sex marriage as "rational" in addition to his belief that it is immoral.
"Nature tells us what marriage is, that in marriage, men and women aren't interchangeable," George said this week. "In marriage, men and women do different things. They raise children differently. They contribute differently. They simply are different. It means something to be a man that's different from what it means to be a woman, and vice versa. And to deny that obvious fact is something that just puzzles me, not as a matter of faith, but it seems to me to be less than reasonable."
In a section of the interview published Wednesday, George added that he felt the Pope's recent comments about gay priests were largely misinterpreted as broader support for LGBT equality and that he hopes to see Illinois' same-sex marriage bill fail.
George's comments come at a time when Democratic gubernatorial candidate Bill Daley, a lifelong Catholic, is pressing the cardinal to reverse his stance on the issue of marriage equality, particularly as it pertains to the church denying funding support to immigrant advocacy groups who support same-sex marriage.
Cardinal George countered, that he believes Daley is being "intellectually and morally dishonest" on the matter, according to CBS Chicago.