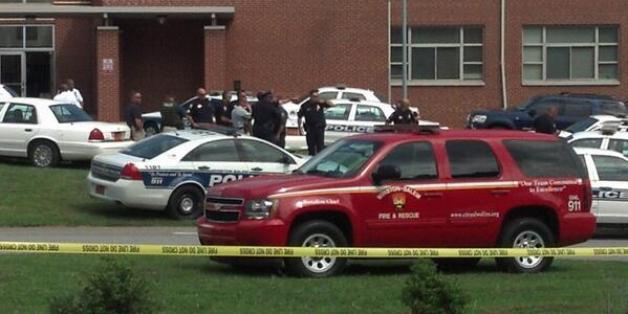 A suspect is in custody after a shooting at Carver High School in Winston-Salem, N.C., police say.
A 15-year-old was shot in the neck and shoulder Friday afternoon, News 14 Carolina reports, but the injuries are not life-threatening and the student is conscious and alert. No other injuries have been reported.
The first reports of gunfire occurred at about 2:30 p.m., Fox 8 reported.

About thirty officers responded to the scene and the school was placed on lockdown, according to WXII 12. The school has about 700 students, according to the Associated Press.

Photos From The Scene (story continues below):
PHOTO: Scene outside Carver High School after shooting (thanks, WXII Michael Brock) pic.twitter.com/JeQ3rRnrdd

— WXII 12 News (@WXII) August 30, 2013
Police block off scene after reported Carver High School shooting (Andrew Dye photo): pic.twitter.com/sBeFxggyQT

— Winston-SalemJournal (@JournalNow) August 30, 2013
This is the second gun incident to occur at Carver High School this year. In January, the school was placed on lockdown for 43 minutes after an unloaded .22 caliber pistol was found in a student's backpack, Fox 8 reported. The student, a juvenile, was charged with possession of a weapon on school property.
BEFORE YOU GO
PHOTO GALLERY
Shootings In America