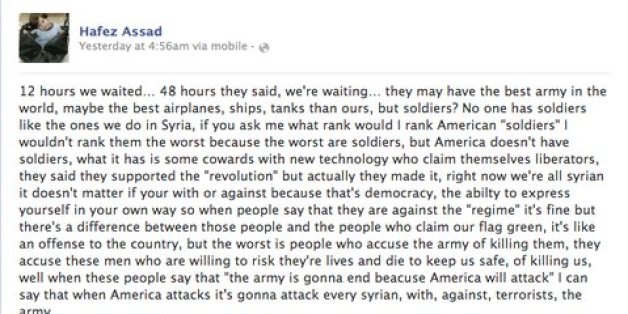 In a lengthy Facebook post this week, someone who evidence suggests is Syrian President Bashar al-Assad's 11-year-old son denounced the U.S. and pledged to fight to the death to remain "in our holy land."
The diatribe was posted Wednesday by an account using the name Hafez Assad, according to Gawker. While the Facebook page is no longer accessible, media outlets were able to obtain screenshots before it was taken down.
Hafez begins with an account of waiting for news about possible attacks. "12 hours we waited [for an attack] ... 48 hours they said, we're waiting," the author writes in English before daring the U.S. to take its best shot at the civil war-torn nation. "No one has soldiers like the ones we do in Syria. ... America doesn't have soldiers, what it has is some cowards with new technology who claim themselves liberators."
The post concludes with this brazen statement:
I just want [America] to attack sooo much, because I want them to make this huge mistake of beginning something that they don't know the end of it. ... They don't know our land like we do, no one does, victory is ours in the end no matter how much time it takes.
(Story continues below.)

While it is possible the post is a fraud, The New York Times notes there is a good deal of evidence pointing to Assad's eldest son as the author.
The profile references a Montessori school in Damascus. According to a controversial 2011 Vogue profile on the family, all three Assad children -- Zein, Karim and Hafez -- attend a Montessori school.
Perhaps even more convincing are the comments left by other Facebook users, friends of the Hafez account holder. According to the Times, the post was "'liked' or commented on by several accounts that appear to belong to the children or grandchildren of other senior figures in the Assad administration," including two children of Deputy Vice President Mohammed Nassif Khierbek and several children of a former deputy defense minister, Assef Shawkat. The Times noted that a Syrian journalist in Damascus said the accounts of Shawkat's children appeared to be legitimate.
Many of the comments commended Hafez on his intelligence and echoed his praise of the Syrian government forces. One such comment reads, "Like father like son! Well said future President!"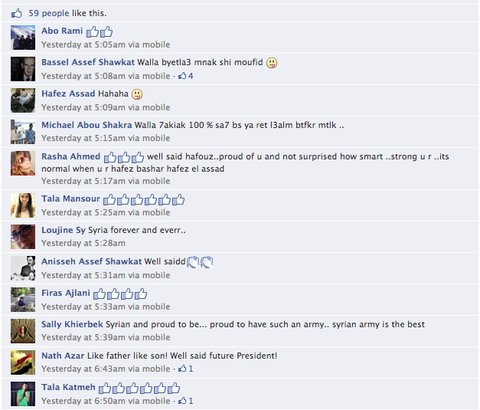 Foreign Policy reported that the Hafez Assad account appeared to be using a professional photograph often used by the Assad family.
The post was published the same day that President Obama announced the U.S. had concluded the Syrian government to be responsible for an apparent chemical attack on civilians last week. While the White House prepares for a possible strike against the Assad government, the British Parliament voted Thursday not to back such action. France said Friday it supports a strike alongside the U.S.
BEFORE YOU GO
PHOTO GALLERY
Bashar and Asma al-Assad