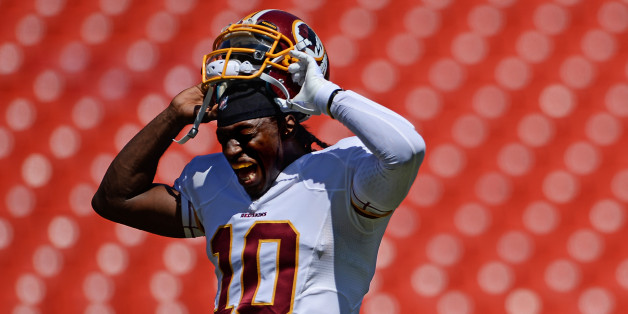 Mission accomplished.
Robert Griffin III tweeted on Thursday evening that he had been "cleared" and that Operation Patience was complete.
Operation Patience....Complete. Cleared.
To God Be The Glory http://t.co/GxYMw8Cs57

— Robert Griffin III (@RGIII) August 30, 2013
For those wanting something a bit more official than a tweet to confirm the return of the NFL Offensive Rookie of the Year, Washington coach Mike Shanahan also confirmed that RG3 had been cleared to play by Dr. James Andrews in the team's first game game of the season. This news came two days after RG3 described himself as "not below 100 percent" in a somewhat confusing declaration of health.
"I would say I'm 100 percent, but you can't put a number on it," Griffin told ESPN 980 Radio in D.C. on Tuesday, via ESPN. "No one ever knows when they are 100 percent or what percentage they're playing at. The biggest thing is, I'm not below 100 percent."
Despite Griffin's confidence in the health of his surgically-repaired right knee, Shanahan indicated that Andrews still had "concerns" and told reporters that he would not name his starter for the team's season opener until Monday.
"I did talk to Dr. [James] Andrews, and Dr. Andrews — after talking to him — he's going to approve Robert [Griffin III] to play," Shanahan said on Thursday after his team wrapped up a 4-0 preseason, via the team's official website. "There's a couple concerns [Dr. James Andrews] has," Shanahan said. "I'll talk to Robert over the weekend and let you guys know on Monday."
Washington kicks off its 2013 season hosting the Philadelphia Eagles on Sept. 9.
UPDATE, 1:13 p.m. ET: ESPN's Trey Wingo tweeted more about the "concerns" surrounding RG3.
Sources telling me the "concerns" about @RGIII have less to do with health of the knee, much more on how the team plans to use him

— trey wingo (@wingoz) August 30, 2013
What @wingoz also reports: Dr. Andrews does not want Redskins to expose RGIII's knee to punishment during games.

— Adam Schefter (@AdamSchefter) August 30, 2013
UPDATE, 4:58 p.m. ET: Maybe Dr. Andrews doesn't have concerns after all.
Dr. Andrews disputes ESPN report on his "concerns" about RG3's use. Via text: "Not true. Team will use [Griffin] appropriately. No concerns"

— Brian McNally (@bmcnally14) August 30, 2013
BEFORE YOU GO
PHOTO GALLERY
2012 NFL Season Highlights