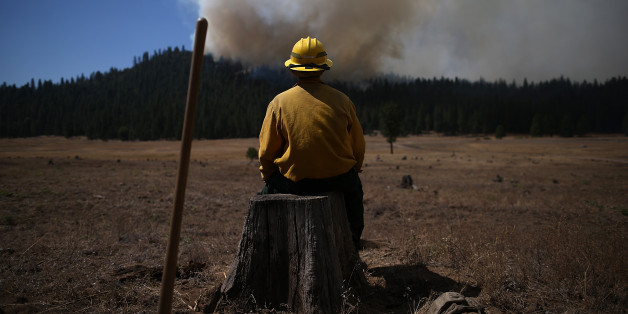 By Laila Kearney
SAN FRANCISCO, Aug 30 (Reuters) - Fire crews battling to keep a massive blaze from invading the heart of Yosemite National Park in California planned to take advantage of cooler temperatures early on Friday to continue the progress they have made in slowing the advance of flames.
The work by fire crews to get a better handle on the so-called Rim Fire comes ahead of a holiday weekend marking the end of the peak summer tourist season. The blaze in recent days has led to a decline in attendance at Yosemite.
Much of the work on Thursday was devoted to preparing key roadside areas in the park and adjacent forest for controlled burning by hacking away excess vegetation before starting the risky, painstaking process of fighting fire with fire, said U.S. Forest Service spokesman Dick Fleishman.
Crews were set to spend the night conducting burn operations from the Hetch Hetchy Reservoir in Yosemite to areas deeper into the park in an effort to clear the rugged terrain of unburned trees and chaparral.
The Rim Fire, which broke out on Aug. 17 and has burned in Yosemite and more extensively in the Stanislaus National Forest west of the park, had charred 199,237 acres (80,628 hectares) by late Thursday.
The blaze raging through dry scrub and timberlands ranked as the fifth-largest wildfire in California history, edging out the Witch Fire that ravaged parts of San Diego County in 2007.
The fire was 32 percent contained. A total firefighting force of 4,297 was arrayed against the fire, which has cost $47 million to combat, according to figures from the multi-agency team handling the blaze.
"I can't say we've turned a corner just yet, but we are making very good progress," said U.S. Forest Service's Fleishman.
The weather was expected to help boost firefighting efforts overnight, with cooler temperatures slowing the fire's progress overnight. But later on Friday, hot weather and low humidity was set to take hold, which could hamper firefighting efforts.
Some 4 million people visit Yosemite each year, most of them during the peak months of June through August. Park officials cited a noticeable decline in the crowds typically seen in late summer but said they were unable to quantify the slump.
The blaze has put a severe crimp in Yosemite-area businesses whose proprietors were counting on a healthy summer season after last year's hantavirus outbreak frightened away many tourists.
"We're laying off just about everybody, something like 45 employees," Chris Loh, 38, who owns the Iron Door Saloon in Groveland, a gateway town 20 miles (32 km) west of Yosemite, said on Thursday.
"This is devastating for not just the businesses but the employees and the community," he told Reuters.
On the opposite end of the sprawling fire zone west of Yosemite, crews on Thursday fought to keep flames away from some 4,500 homes in a string of small communities along the fringe of the Stanislaus National Forest, said California Department of Forestry and Fire Protection spokesman Dennis Matheson.
Most of those dwellings were ordered evacuated or under advisories urging residents to leave voluntarily or be ready to flee at a moment's notice.
The fire has already destroyed dozens of homes and cabins, but no serious injuries have been reported. (Writing by Alex Dobuzinskis; Editing by Lisa Shumaker)
BEFORE YOU GO
PHOTO GALLERY
Rim Fire Near Yosemite National Park