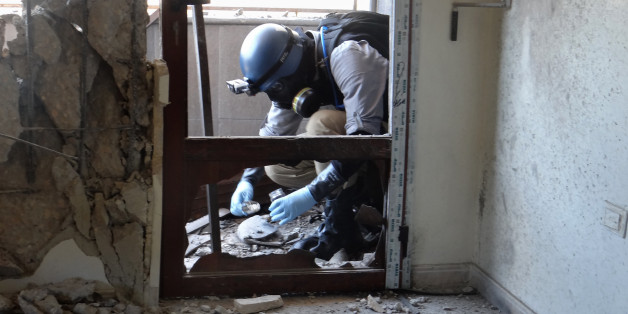 By Louis Charbonneau
UNITED NATIONS, Aug 30 (Reuters) - A team of U.N. investigators has finished gathering samples and evidence related to a suspected chemical weapons attack that killed hundreds of people in suburbs near Damascus last week and is packing up to leave, a U.N. spokesman said on Friday.
The team will be leaving Syria on Saturday but will return later to investigate several other alleged poison gas attacks that have taken place in Syria during the country's 2-1/2 year old civil war, U.N. spokesman Martin Nesirky said.
"The samples that have been collected will be taken to be analyzed in designated laboratories and the intention of course is to expedite the analysis of that sampling that's been taken," Nesirky said.
He offered no timeline for when that analysis would be completed.
"Before the mission can draw any conclusions about this incident, the evaluation of all available information including the laboratory analysis of all samples must be completed," Nesirky said.
He was addressing reporters while U.N. Secretary-General Ban Ki-moon was meeting with delegates from the five permanent U.N. Security Council members - Britain, China, France, Russia and the United States - to update them on the U.N. investigation in Syria. Envoys from the five countries gave no details of the meeting to reporters after it ended.
Ban cut short a visit to Europe amid concerns that Western powers are preparing military strikes against Syria to punish the government of Syrian President Bashar al-Assad for the chemical attack. Assad's government, like Syria's ally Russia, blames the rebels for the attack.
France said on Friday it still backed military action to punish Assad's government and Washington pushed ahead with plans for a response despite a British parliamentary vote against a military strike.
An unclassified report by U.S. intelligence agencies released on Friday said the attack killed 1,429 Syrian civilians, including 426 children.
NO TIMELINE
U.S. Secretary of State John Kerry said on Friday that the U.N. experts could not provide the United States with anything it does not already know about the Aug. 21 incident.
The U.N. inspectors' mandate dictates that they will only seek to determine whether chemical weapons were used, not who used them.
Asked about rumors that all the U.N. investigators had left Syria already, Nesirky said the experts were still there and would be departing on Saturday, though translators and some support staff had already left.
Earlier this week Syria's U.N. envoy asked the United Nations to order chemical experts in Damascus to investigate three rebel attacks in which he said Syrian troops "inhaled poisonous gas," while Britain pushed for the Security Council to act on the crisis.
Nesirky said the team began an inquiry into those allegations on Friday.
"Today the mission visited a government military hospital in Damascus as part of its evaluation of information provided by Syria on that," he said, adding that the investigators would continue investigating those allegations when they return to Syria.
The United States dismissed the appeal by Syria's U.N. envoy, saying chemical experts had been refused access to Syria to investigate allegations poisonous gas had been used repeatedly by Assad's government.
The United Nations has received at least 14 reports of possible chemical weapons use in Syria. After months of diplomatic wrangling, the U.N. experts, led by Swedish scientist Ake Sellstrom, arrived in Syria on Aug. 18 with a 14-day mandate to visit the country.
The U.N. team was initially going to look into three incidents, but its priority became last week's incident, which opposition activists say killed hundreds of civilians, including children. (Additional reporting by Edith Honan; editing by Christopher Wilson and Jim Loney)
BEFORE YOU GO
PHOTO GALLERY
Syria War In August (Warning: Graphic Images)