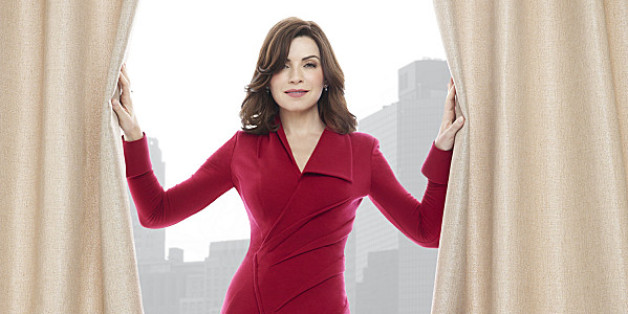 When Alicia Florrick (Julianna Margulies) said "I'm in." to Cary (Matt Czuchry) in "The Good Wife" Season 4 finale, she started something that cannot be stopped.
"Her choosing to leave with Cary and start her own firm creates a bloodbath at Lockhart/Gardner," Margulies said in the preview video below.
"The Good Wife" Season 5 will be "civil war," according to "Good Wife" co-creator Robert King. Alicia and Cary are leaving, along with several other players, and the tensions will rise.
"It's going to be a really tumultuous time, I think," Margulies said. "You're going to be on a whirlwind and then there's going to be an explosion. It's going to rock everyone's world on the show."
"The Good Wife" Season 5 picks up with Alicia announcing her plans to leave Lockhart/Gardner to her husband, Peter Florrick (Chris Noth), the newly elected governor of Illinois, and his adviser Eli Gold (Alan Cumming). But the exit doesn't happen immediately, leading Cary and Alicia to tiptoe around the backs of their bosses Will (Josh Charles) and Diane (Christine Baranski). Guest stars this season include Melissa George, Jeffrey Tambor, Carrie Preston, America Ferrera and Gary Cole. Margulies has also teased the return of Michael J. Fox and Nathan Lane.
Here's the official description for the fifth season premiere:
"How to Begin..." – Alicia must focus on the firm's efforts to prevent the execution of a convicted murderer while she secretly plans her exit from the firm with Cary. Meanwhile, Eli helps Peter assemble his staff in the governor's office, on the fifth season premiere of THE GOOD WIFE, Sunday, Sept. 29 (9:00-10:00 PM, ET/PT) on the CBS Television Network. Jeffrey Tambor guest stars as Judge Kluger; Melissa George guest stars as Marilyn, Peter's ethics counsel; Ben Rappaport guest stars as lawyer Carey Zepps; and renowned defense attorney Barry Scheck guest stars as himself.
"The Good Wife" Season 5 premieres Sunday, Sept. 29 at 9 p.m. ET on CBS.
PHOTO GALLERY
The Good Wife