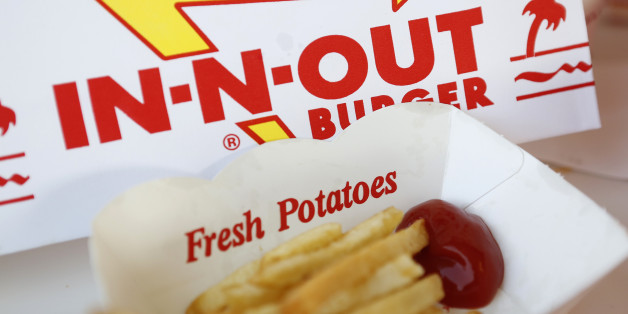 RIALTO -- The city's long-awaited In-N-Out has arrived, and with it hope that the economy is turning around.
On the restaurant's opening day Thursday a long line of cars snaked across the property.
"We were expecting busy, but this has exceeded our expectations," said Frank Nila, one of two district managers helping the drive-through line during the noontime rush.
Rialto resident Katie Sloan went to the new Riverside Avenue location on opening day but said she quickly changed her mind.
"There were too many people. I just turned around and went home," Sloan said while having lunch Friday with her husband Bill Sloan and son, Mike, 42.
When longtime Rialto resident Loretta Diggins, 71, saw the In-N-Out was open Thursday, "I was so happy, I was like a little kid again."
Councilman Ed Palmer said he had lunch Thursday at the new In-N-Out, but when he returned that evening with his two children, the line for the drive-through was out to the street and there was no room in the restaurant's large parking lot.
"Things are starting to come together for Rialto," Palmer said.
The trajectory for In-N-Out's arrival in Rialto has been anything but direct.
The Rialto outlet was put on hold several years ago when In-N-Out decided to focus on opening several restaurants in Texas first.
When the company refocused on California, the city was caught up in the demise with more than 400 city redevelopment agencies across the state.
Contracting terms painstakingly worked out with the redevelopment agency needed to be renegotiated with the city in 2012, said Rob Steel, who ran the city Redevelopment Agency and is now assistant to the city administrator and development services director.
Some redevelopment funding had been put into the project and the agreement had been signed, but "that door was slammed shut and we basically had to start (negotiations) from scratch," Steel said Friday.
Ultimately, the city provided In-N-Out with a completed pad -- with utilities installed -- and will build a 90-foot freeway-visible sign, which will advertise the In-N-Out and whatever other restaurants become its neigbhor, Steel said.
Chipolte Mexican Grill is likely to move in next to the In-N-Out, he said.
"We are on the 75 yard line for that one," said City Councilman Joe Baca Jr., indicating the intent to come to Rialto is there, although a formal agreement has not been signed.
Steel said that discussions with Miguel's Jr. are ongoing, but city council has said it wants to see diversity in that Riverside Avenue/210 corridor.
"It's a question of finding the right location for them in town," he said.
Baca said that the arrival of In-N-Out is "a proud moment for the city of Rialto and it shows the city is having economic vitality in tough times."
The 3,700-square-foot eatery employs 55 and seats 77 inside with additional patio tables and seats outside, said Carl Van Fleet, In-N-Out, vice president of planning and development.
The building size is similar to the Highland and San Bernardino restaurants, although the parking lot is larger, he said. ___
BEFORE YOU GO
Here's a list of some of the most well-know eateries with secret menu items that are sure to wow, please and sometimes puzzle you on your next trip. To read more Neon Tommy stories, click here.