Time has healed no wounds when it comes to how secure Americans feel at work, according to a recent poll.
The poll, conducted by Gallup, found that Americans continue to express elevated concern about being laid off, having their hours cut, and having their benefits and wages reduced. Gallup found that of more than 2,000 respondents, most worried (43 percent) about having their benefits reduced this year.
Although a majority of these concerns peaked between 2008 and 2009, Gallup's most recent results indicate that U.S. workers still need more time before feeling recovered from the effects of the global financial crisis.
Here is the chart from Gallup: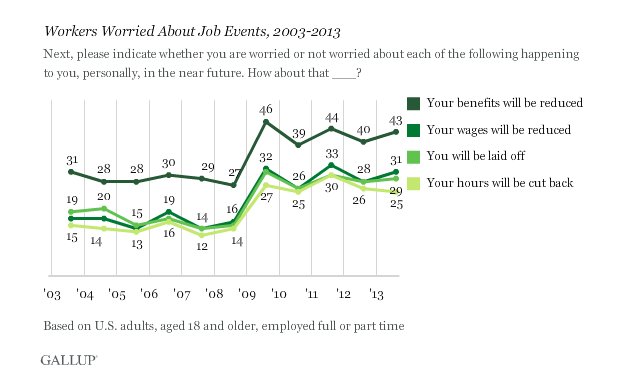 The poll reflects the reality United States workers face given the tepid economic recovery and slowly improving job market. In July, the Associated Press reported that 80 percent of American adults deal with unemployment, near-poverty or dependence on welfare for at least parts of their lives. The gap between the rich and the poor, and the huge loss of middle-income work during the recession are just some of the reasons why Americans continue to struggle.
Gallup's poll found that low-wage workers are among the most frightened, with 44 percent of poll respondents who earn less than $30,000 per year saying they were worried about being laid off. That figure is up 25 percent from 2008 when only 19 percent of low-wage workers expressed the same fear.
The country's poorest workers were the hardest hit during the economic recovery. Workers in low-wage industries lost a larger share of their inflation-adjusted income than Americans in higher-paying fields, according to the National Employment Law Project. Half of all the jobs created in the past three years were low-paying, meaning that this struggling group of Americans just continues to grow.
American fast-food workers nationwide walked out of their jobs last week in protest, demanding a $15 hourly minimum wage as well as more job security.
Supporters of the movement contend that McDonald's and other low-wage employers can afford to increase wages. However, opponents say that the profit margins at fast-food restaurants are already extremely tight and any increase in wages would be directly passed on to the customer.
BEFORE YOU GO
PHOTO GALLERY
Weird Reasons That People Get Fired