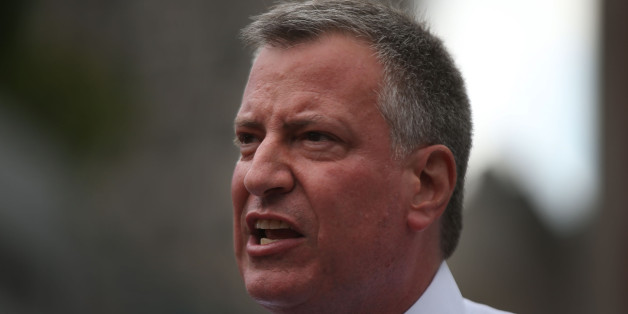 Front-running candidate for New York City mayor Bill de Blasio was repeatedly questioned at Tuesday's final Democratic primary debate over a report that he took tens of thousands of dollars in donations from people on his own list of the city's worst slumlords.
City Council Speaker Christine Quinn pounced on the issue early in the debate and raised it again later as she sought to cut into de Blasio's apparent sizable lead in the most recent polling.
The Daily News reported Tuesday morning that de Blasio, the Public Advocate, accepted $54,000 from building owners and their relatives whose tenants lived in squalid conditions. The apartments they owned, however, were in such bad shape with mold, busted pipes and other violations that de Blasio himself placed them on the annual Worst Landlords list produced by his office of the public advocate.
Quinn said de Blasio took even more money from neglectful landlords than the Daily News reported.
"Some of the people who have given him that $65,000, their tenants still say they're living in horrible conditions," Quinn said. She accused him of "talking out of both sides of his mouth."
De Blasio's office has said building conditions were improving when he took the money. But at the debate, the candidate dodged questions about the contributions.
"We shamed them and we got a lot of them to mend their ways," de Blasio said. "We would not allow landlords off the hook."
Ex-congressman Anthony Weiner came to de Blasio's rescue, saying his opponent was strong when it comes to fighting for tenants.
"Bill de Blasio has been very good for standing up to slumlords," said Weiner, who has fallen far in the polls.
But Quinn rekindled the controversy during the segment when candidates were asked to question each other.
"We haven't gotten a full answer," she said.
De Blasio said her question was "inaccurate to begin with." After the debate, he put out a statement that accused Quinn and other opponents of making "desperate, misleading attacks" about his record on a number of issues.

BEFORE YOU GO