While we're mourning the unofficial end of summer, one of our favorite clothing brands, Splendid, helped capture the essence of this past season and style via its first-ever film contest.
The LA-based company launched its "Make Everyday Splendid" student film competition in an effort to show that "innovative narrative and imagination can truly connect people" -- especially via the talent of young filmmakers. It totally reminds us of the connection between fashion and film that Miu Miu celebrates in its "Women's Tales" series.
After reaching out to students from top schools around the country to create submissions showing "how splendid every day can be," Splendid narrowed down the entries to five films. Top names from both fashion and film weighed in on the submission-- including Joe Zee, Creative Director of Elle, and Dewey Nicks, acclaimed photographer and filmmaker. But ultimately the decision was left up to the public and they crowned Che Grayson the winner for her film "Breathe, Relax."
The 22-year-old's short film is set to the Sol Galeano song of the same name and is a montage of all our favorite summertime activities (past and present): hanging with girlfriends, DIY pedicures, eating ice cream and jumping Double Dutch -- all while wearing Splendid, of course.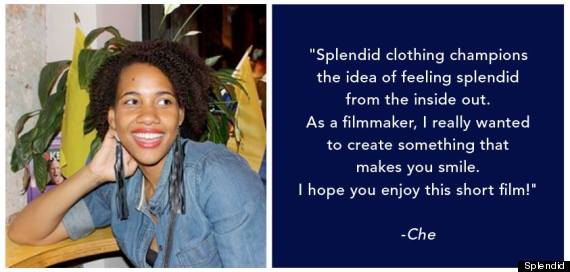 We're sure this won't be the last we see from Grayson who is working towards her MFA at New York University's graduate film program. The $3,000 she won from Splendid's contest will definitely help as she works on her upcoming projects -- a short film called "Hot Cross Buns" and long form piece entitled "The Flower Colony."
Check out Che's winning film above and let us what you think about it in the comments section below.