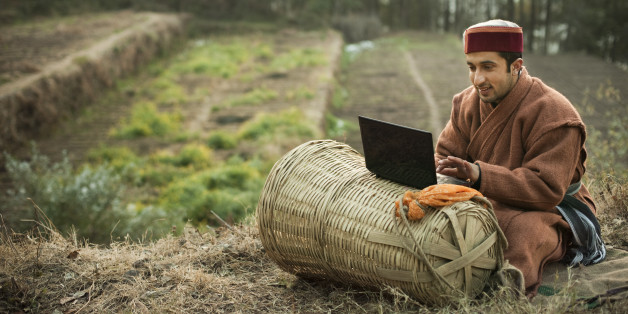 In the industrialized world, the Internet is no longer a luxury. Yet according to Monday's Pew Research Center study, 30 percent of Americans still lack online access. Maybe it's time to take matters into their own hands.
Communities beyond U.S. borders are showing the way.
In rural Lancashire, England, the residents of one village have begun digging trenches and installing their own fiber optic cables. To make their homemade network run, the BBC reports, they've enlisted everyone from a "Lancaster University professor who is an expert in computer networks" to a "farmer's wife who has just retired from a career in IT support."
"Farmers are being told they have to fill in forms online," Barry Forde of the Lancashire effort told the BBC. "If you haven't got broadband, you are severely disadvantaged."
An ocean away, The Times of India reports, the Mexican town of Villa Talea de Castro built its own mobile network after America Movil, Mexico's largest telecommunications provider, refused to hook the town up.
Other rural communities have set up "mesh networks," in which signals are transmitted directly from one Wi-Fi access point to the next -- no towers or cables required. According to Mother Jones, often all that's needed to access these local "meshes" is a Wi-Fi card and a long-range antenna.
Mother Jones points out that even those with the luxury of choice may have reason to prefer DIY Internet over the corporate kind. Residents of Athens have established a local mesh, though the city has "the Net we pay for." They say the mesh is faster and more community-oriented. DIY networks are also far more difficult than conventional networks for governments to take down or tap, Mother Jones writes.
It turns out that building your own Internet isn't that complicated -- if you have the right materials. Assuming you don't want to dig trenches like the people in Lancashire, a mesh network may be the way to go: Android phones can be made into Wi-Fi antennas capable of "meshing" by installing apps like Serval Mesh. And cheap "cantennas" -- sometimes literally made of soup cans -- can extend the range of a DIY network hundreds of meters.
So if you're feeling squeezed by Big Telecom -- and really, right now, who isn't? -- you might just have an alternative.
BEFORE YOU GO
PHOTO GALLERY
What Happens On The Internet In One Minute?