Forget finger painting and LEGO building. Five-year-old He Yide is already flying planes. According to China Daily, the boy completed a 35-minute flight by ultralight aircraft across Beijing Wildlife Park on August 31.
His father -- known as Eagle Dad -- plans to contact Guinness World Records so that his son can be officially named world's youngest pilot, the Global Times reports.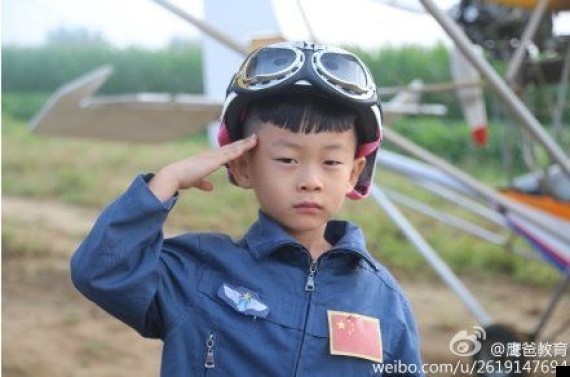 Dad spent a whopping 30,000 yuan ($4,905) for the flying courses prior to He Yide's flight.
Eagle Dad's parenting tactics first came under scrutiny in February 2012 when a video of his son, nicknamed DuoDuo, running almost-naked in the snow went viral. At the time, China Daily reported that Dad's harsh training schedule including swimming, hiking and jogging and was part of his plan to make the boy -- who may have cerebral palsy -- as strong as "others." The video wasn't part of his son's training, however. That was just a "gift" to his friends, "a New Year's tradition," Eagle Dad said.
In August of 2012, Eagle Dad (whose real name is He Liesheng), made headlines once more when he forced his son, then 4, to sail alone.
He Liesheng explained his nickname to China Daily:
"When the old eagle teaches its young, it takes the young eagles to the cliff side, beats them and pushes them to teach them to use their wings, and I believe I am helping my son in this way - to force him to challenge limitations and exceed his own expectations."
Though he has faced criticism for DuoDuo's stunts, he's stood behind his methods at each turn. When his "naked run" was posted to YouTube, dozens of comments called Dad "abusive." To that, an assistant of He Liesheng's told AFP that the boy had "no problems" because of the "intense education method."
This time, Dad wrote updates about his son's flying progress on a Chinese blogging website, Weibo. On August 14th he wrote, "His first flight was very successful and he wasn't scared at all," the Global Times reports.
Eagle Dad isn't the only animal parent out there...
BEFORE YOU GO
PHOTO GALLERY
Animal Parents