Anglo-Dutch firm Unilever has come under fire after an advertisement for South Africa-based Flora margarine (owned by Unilever) appears to equate having a child come out as gay with being shot in the heart.
The advertisement, reportedly made by an agency in Johannesburg, depicts a bullet with the words "Uhh Dad I'm Gay" propelled at a heart made of china, with the phrase "You Need A Strong Heart Today" as the tagline: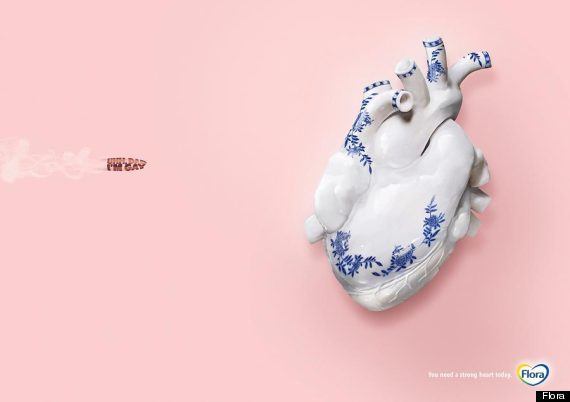 Lowe and Partners, the international advertising firm that reportedly developed the "You Need A Strong Heart" campaign, spoke out about the backlash caused by the advert. "I would like to unreservedly apologise for this campaign and the unintended offence it has regrettably caused," stated Sarah Dexter, the firm's Johannesburg managing director.
Unilever also, while not apologizing, recognized the inappropriate nature of the advertisement via the company's Twitter.
@JRhodesPianist The advert was not approved by anyone @Unilever. The advert is offensive & unacceptable. We have put an immediate stop to it

— Unilever News (@Unilever) September 3, 2013
The advertisement is particularly shocking given that Unilever owns Ben & Jerry's, a company widely known to support marriage equality and rights for LGBT individuals. Ben & Jerry's even renamed their cookie dough ice cream "I Dough, I Dough!" after coming out in support of same-sex marriages.
We're proud that today's Supreme Court rulings are a historic step forward on road to #MarriageEquality. #LoveIsLove pic.twitter.com/Ug6YWaVRBZ

— Ben & Jerry's (@benandjerrys) June 26, 2013
The Huffington Post reached out to Unilever to offer comment surrounding the advertisement but did not receive a response. However, a spokesperson for Unilever told The Drum, "This advert was prepared by an external agency in South Africa and was not approved by anyone at Unilever. The advert is offensive and unacceptable and we have put an immediate stop to it. Unilever is proud of the support that our brands have given to LGBT people, including our recent campaign for Ben & Jerry's on equal marriage."
Another ad within the same campaign featured a bullet labeled "Kama Sutra Page 48" as it propelled in the direction of a glass heart.
BEFORE YOU GO
PHOTO GALLERY
LGBT Commercials