How the mighty have fallen.
Struggling Nokia agreed on Tuesday to sell the remainder of its main handset business to Microsoft for $7.2 billion. "It's very clear to me that rationally this is the right step going forward," Nokia CEO Stephen Elop said while expressing "a great deal of sadness."
But let's not focus on the bad with Nokia. Let's remember some of the ways Nokia was awesome, before the iPhone was even a twinkle in Steve Jobs' eye.
1. The Nokia 1100.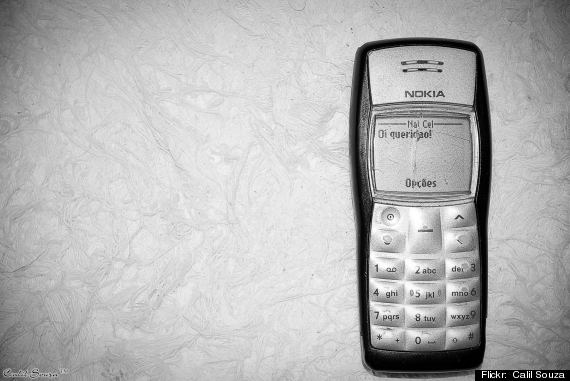 The Nokia 1100 may not look like much, but the numbers don't lie: With 250 million sold since late 2003, the Nokia 1100 is the most popular cell phone of all time. Even as phones became fancier, the low price and functionality drew millions toward this brick. At one point, hackers were paying upwards of $32,000 for the discontinued model.
When using the Nokia 1100 and several other models, consumers were hooked on the most simple, yet addictive, phone game ever. Nope, not Angry Birds or Temple Run. It was the slithery, almighty...
2. Snake.
Sweaty palms. Frazzled nerves. Eyes pinned open. The only emotion matching the thrill of a rapid snake maneuver was the agony of crashing and burning. The game is now installed on 350 million mobile devices worldwide.
And if you've ever wondered what "winning" Snake looked like, look no further than the GIF above. Prepare to lose a few minutes of your life.
Hey, at least the sale to Microsoft gave us this epic redux of Snake.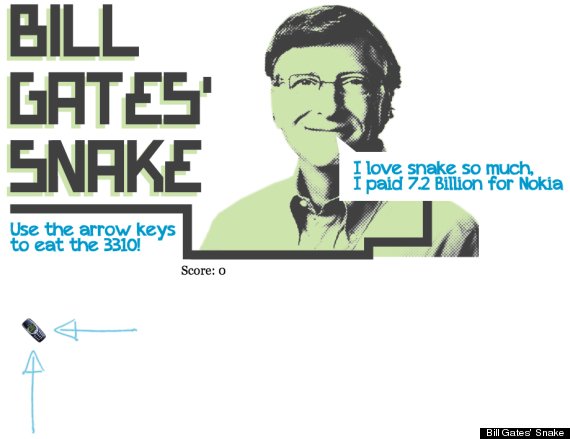 3. All those awesome ringtones.
We'll take these over Marimba any day. Apart from the dubstep one. Forget that.
Around 1.8 billion people hear this ringtone everyday, or about 20,000 times per second.
4. The world's biggest cinema screen.
In 2010, Nokia constructed an absolutely massive cinema screen in Rosengård, Sweden in a world record attempt. The 51 meter-by-28-meter behemoth was meant to promote for the Nokia N8.
Just look at that thing. We'd happily pay the inflated price for popcorn to watch a movie on that.
5. The "Gorba."
Nokia's first mobile phone arrived in 1987, weighing 1.7 pounds and cost nearly $6,000. Clumsily dubbed the Mobira Cityman, the phone got a unique boost in exposure when then Soviet president Mikhail Gorbachev was pictured using one. The phone became known as the "Gorba" soon after.
Sure, the "Gorba" looks ridiculous now, but is it worse than President Obama using a BlackBerry today? 6. Some of these phones were actually indestructible.
Seriously. Nokia put effort into making its phones strong. In fact, Nokia originally laughed off the iPhone in 2007 for utterly failing the company's famed "drop test" for mobile phones.