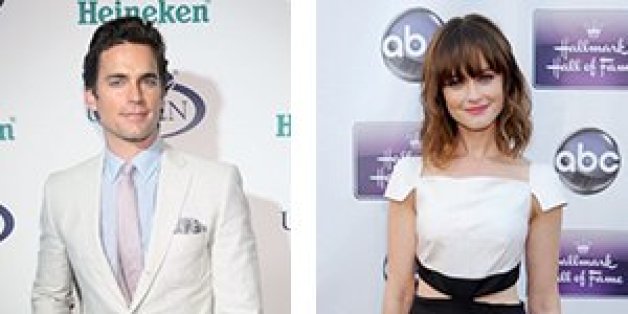 Angry "Fifty Shades of Grey" fans are petitioning against the casting choices made by producers of the erotic novel's film adaptation. The irate aficionados are demanding Alexis Bledel and Matt Bomer be cast as the leads instead.
On Monday, author E L James announced via Twitter that the stars of the much-anticipated BDSM adaptation were finally chosen. Dakota Johnson is set to play virginal college student Anastasia Steele, while Charlie Hunnam will take on the role of Christian Grey, the brooding businessman who entices Anastasia over to the dark side with his "Red Room of Pain."
Alas, some "50 Shades" fans are not feeling those casting choices, The Hollywood Reporter noted. A Change.org petition has been set up demanding the leads be recast with Alexis Bleldel and Matt Bomer as the stars.
The petition, which has since garnered over 20,000 signatures, reads:
Matt Bomer is the PERFECT DESCRIPTION OF CHRISTIAN GREY AND ALEXIS BLEDEL IS THE PERFECT ACTRESS TO REPRESENT ANASTASIA STEELE and if THEY ARE NOT, NOBODY WILL BE And I read the whole trilogy and I can assure that Matt is the perfect actor for this movie and Alexis too. So please PLEASE, all of the GREYsessed and Bomerettes in the world NEED those actors. They always will be for us the Christian Grey and Anastasia Steele. WE CAN DO ANYTHING GUYS, ANYTHING.
Bledel and Bomer have been fan favorites since talks of the "50 Shades" movie first began. A mock trailer was even made depicting what it would be like if the two portrayed the couple on the big screen. The former "Gilmore Girls" star was apparently "flattered" (and "freaked out") to be considered.
"I don't know where it came from," she told Elle magazine last year. "All I know about are some fan-made trailers on the internet I've seen, but that's the only thing I've heard." Adding, "People definitely do have strong opinions about [the casting of Christian Grey]. I guess when people really identify with a concept, they feel strongly about it."
Producer Dana Brunetti defended casting Johnson and Hunnam, who reportedly nailed a "chemistry read" together.
There is a lot that goes into casting that isn't just looks. Talent, availability, their desire to do it, chemistry with other actor, etc.

— Dana Brunetti (@DanaBrunetti) September 2, 2013
So if your favorite wasn't cast, then it is most likely due to something on that list. Keep that in mind while hating and keep perspective.

— Dana Brunetti (@DanaBrunetti) September 2, 2013
For those still on Team Bledel/Bomer, watch the mock "Fifty Shades" trailer below and keep on dreaming.


BEFORE YOU GO
PHOTO GALLERY
Celebrity News & Photos