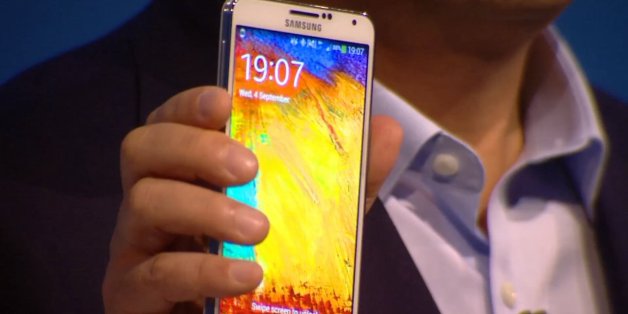 Samsung revealed the latest in its line of large smartphones, the Galaxy Note 3, at an event in Berlin on Wednesday. The new smartphone will be released Sept. 25 in 149 countries and will be powered by Android 4.3.
The Note 3 has a bigger display than the Note 2, but with no increase in width. The screen measures 5.7 inches diagonally, slightly larger than the Note II's 5.55 screen and is slightly slimmer than the Note 2.
The so-called phablet also has a longer-lasting battery, a lighter body and a 13 megapixel camera. 3GB of RAM will make it run faster and smoother.
The back of the phone is covered in leather-like finish, meant to evoke the look and feel of a real notebook, and comes in three colors: black, white, and "blush pink." There are also leather flip wallet covers that come in a wide range of seasonal colors.
Samsung also unveiled a new S Pen, an improved stylus made specially for the Note 3.
Since smartphone security has become such a big concern, Samsung introduced a new security system called Samsung Knox, which provides platform security and application security. It's not quite clear what that means.
The previous iteration of the phone, the Galaxy Note 2, was released in 2012. The phone was a hit, and Samsung announced that it had sold over 3 million Note 2's in just over a month after the phone's launch.
Samsung's biggest winner so far, however, has been the less monstrously sized Galaxy S4, 20 million of which were sold in its first 2 months.
Samsung's release comes less than a week before Apple's new product launch on Sept. 10. Apple is rumored to release two new types of iPhones and an update to Apple TV at its Cupertino, Calif. event.
BEFORE YOU GO
PHOTO GALLERY
Samsung Galaxy Note 3