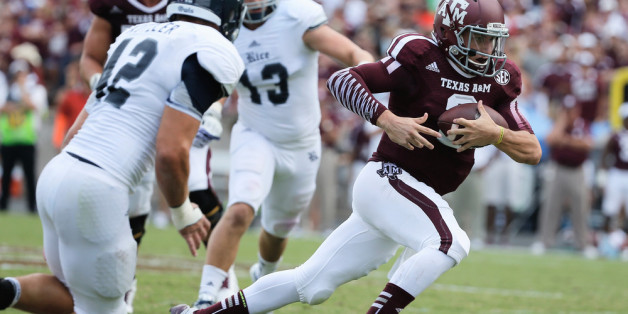 Texas mom Beth Bates has some advice for the reigning Heisman Trophy winner: Johnny be good.
Bates penned an open letter to Texas A&M quarterback Johnny Manziel, urging the controversial star to be a positive role model for her sixth-grade son (see picture below) and others kids who look up to him.
The heartfelt missive has gone viral and been recounted in several media outlets since Bates posted it Aug. 31 at MySacredHideaway.com.
Bates, who lives in Manziel's hometown of Kerrville, Texas, recounted the moment Manziel said hello to her grateful son at a local restaurant when the future Aggie was still just a high school standout. The boy continues to see the positive in Manziel, she writes, even as she has grown frustrated with Manziel's behavior. But there's still hope, she continues:
I want my son to look up to you as a person who made mistakes, but found redemption. As a person who acknowledged mistakes and righted the ship. As a person who earned respect, not because of athletic ability but because of character in the face of trial. Stop being a lesson in what not to do.
Bates writes of mistakes that Manziel has "paraded" on social media. However, the only specific transgression she notes is Manziel's penalty for taunting Rice players in the fourth quarter of A&M's 52-31 season-opening victory.
Among recent developments, Manziel has also been accused of partying too hard and shirking football camp obligations this summer. His parents have reportedly urged him to get alcohol counseling and expressed fear that fame will keep him from growing up.
He was even alleged to have signed autographs for money. The quarterback was absolved of the charge by the NCAA, which still suspended him a half-game last Saturday for allowing his image to be used for commercial purposes.
Bates has been fielding congratulations on Twitter for her letter. Meanwhile, Manziel and his Aggies have been preparing to play Sam Houston State.
Bates wants to know if he's ready to lead by example.
"You could be one of the best quarterbacks to ever play the game," she writes near the end of the letter. "You have a platform to make a difference, to influence lives, to do good. And I may be in the minority and maybe a little naive, but I believe you want to do it right."
Great evening celebrating @JManziel2 in #Kerrville. My Aggie so hoped to meet him! Great night anyway! #TFND pic.twitter.com/hLBXuX9oNy

— Beth Bates (@Beth_Bates) April 21, 2013
Beth Bates' son has looked up to Johnny Manziel since the Heisman winner was a high school star in their hometown, she explained in a letter. (Credit: Twitter)