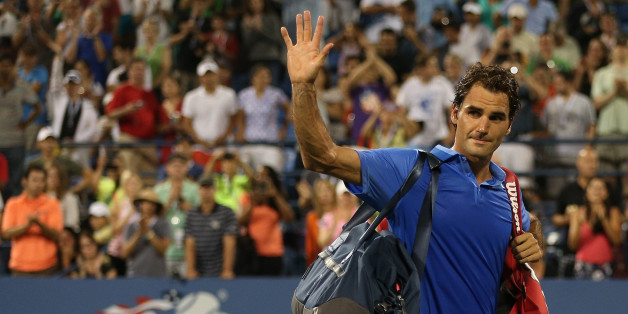 It might be time to start getting used to not seeing Roger Federer late in Grand Slam tournaments.
At 32 years old, the record holder for career Grand Slam men's singles titles failed to reach the U.S. Open quarterfinals for the first time in a decade. With Federer's loss to 19th-seeded Tommy Robredo in straight sets on Monday night, 2013 also marks the first time since 2002 that the Swiss star failed to appear in a Grand Slam final. He lost in the semifinals at the Australian Open, in the quarterfinals at the French Open and was ousted in the second round at Wimbledon.
"I've definitely got to go back to work and come back stronger," Federer said on Monday after getting upset in New York. "Get rid of this loss now as quick as I can, forget about it, because that's not how I want to play from here on. I want to play better. I know I can."
If Federer can't "play better" in 2014 or beyond then his 2012 Wimbledon title, won at age 31, would end up being his final Grand Slam title. Judging by the careers of some of Federer's fellow tennis greats, time is not on his side if he intends to get back on top of the tennis world. Pete Sampras won his final Grand Slam title at the 2002 U.S. Open at 31 years old. Jimmy Connors was the same age when he celebrated his last Grand Slam triumph. At 32 years old, Andre Agassi won his last Grand Slam title in 2003 at the Australian Open.
Here is a look at the final triumphs of several other men's stars of the Open era.
PHOTO GALLERY
Tennis Stars At The End Of Their Careers