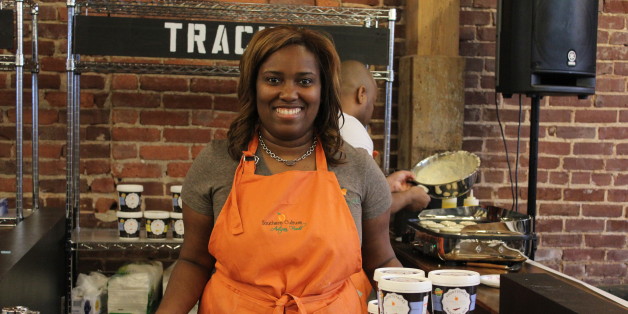 One of the reasons I started my website is that I wanted a place for women to come together and dream. We women need to know that we don't have to hang on to an old dream that has stopped nurturing us -- that there is always time to start a new dream. This week's story is about a woman who decided to leave a career in human resources behind in order to pursue her true passion for cooking and start a business empire of her own. -- Marlo, MarloThomas.com
By Lori Weiss
By the time she was nine, Erica Barrett had taken over the family kitchen. Obsessed with the well-worn, red and white, checkered cookbook she discovered in her grandmother's cupboard, the kitchen became her after school playground. It wasn't long before the young girl was welcoming her family home to a piping hot dinner of pork chops, pan-fried corn and scalloped potatoes.
"When my grandmother noticed how much I loved to cook," Erica recalled, "she started bringing home more and more cookbooks, and I'd experiment with new recipes. My mother was a hair stylist, and at one point I even asked her if I could cook chicken fingers for her customers. I made $160 that day! But I never looked at it as a career, I just saw it as part of being a Southern girl."
So, when it was time to move on to college, Erica decided to major in business, but she took her passion for cooking with her and put it to good use making meals for her sorority sisters and for the cute boy who fixed all their computers. That boy, Andre, would eventually become her husband, and his love for food would play an integral part in bringing Erica back to who she was meant to be.
"I always tell people Andre was 40 pounds lighter when I met him," she laughed. "He loved my cooking, so when he heard about a contest being held by The Food Network and Lea & Perrins, he convinced me to enter. He said, 'You always wanted to work with food, this is your chance.' And it was true. Had anyone told me I could have been a chef, I would have gone to culinary school."
By that point, Erica had settled into a career in human resources, but since she spent all her free time in the kitchen anyway, she felt right at home entering the contest. And clearly there were a lot of people who agreed with Andre because when the judges narrowed down the field and let visitors to their website vote, Erica's Crunchy Asian Pork Tacos took first prize winning her $10,000 and a trip to New York City.
Article continues below slideshow
PHOTO GALLERY
Erica's Southern Culture Pancakes
"It was the first time in my life I ever won anything! But it wasn't about the money, it was the validation that someone else thought I had talent. After that I knew I had to do more to keep my passion alive."

But it was her passion for her husband that brought her to the supermarket one early Sunday morning where she loaded up her cart with all the fresh ingredients it took to make a special pancake breakfast. By the time she was ready to check out, she'd run up a tab for $35 and that's when things began to add up.
"It didn't make sense to spend that much on breakfast," Erica explained, "but I wasn't going to buy a mix with all kinds of chemicals. I was sure there had to be a better way and that's when I started going up and down the aisles of the supermarket. I could see that manufacturers hadn't changed the way they made pancakes in 100 years. Sure, now they offered chocolate chip and whole grain, but no one had really taken the time to innovate breakfast. And that's where I saw my opportunity -- I was going to reinvent breakfast."
Erica was determined to bring a little flavor to the table. So she began experimenting with her favorite taste tester by her side.
"My favorite desert is banana pudding, so I decided to start there. But I'd always used fresh fruit, so I had to figure out how I was going to get that into a powdered mix. I didn't want to use flavorings. I did research every single day. I was obsessed. That's when I discovered freeze dried fruit and started infusing flavors. When Andre, who hates banana pudding, said he loved it, I knew I had it!"
Next came a vanilla pancake mix and then bourbon salty pecan -- and with a little help from the University of Georgia's agricultural department, Erica figured out a recipe that would give her product, which is made with all natural ingredients, a stable shelf life.
"It was like putting together the pieces to a puzzle," Erica continued. "Not just the mixes, but getting to the point where I could sell them. I went to the grocery store and studied containers. I went online to find out how to get a bar code and a certified kitchen. And I began to sketch exactly what I wanted the packaging and design to look like."
Another Google search led her to a designer who'd worked with Welch's and together they created a look that defined the breakfast company Erica envisioned. And with a $25 entry fee, Erica was ready to introduce her pancake mixes to a circle outside of her family and friends.
"There was an event in town called the Atlanta Nosh, where local vendors could sell their products. I set up an orange tent and a griddle and I taught Andre to flip pancakes. Our table was surrounded! And then a woman approached us and asked if we'd ever considered doing a trade show. I had to ask her what a trade show was!"
The woman was a food rep from America's Mart -- a trade show which also happens to be held in Atlanta. This time though, the fee for entry would be a little bit more of an investment -- a $3,200 investment. But it would launch the company Erica named Southern Culture Foods in a way she never imagined.
"I bought bookcases at Target," Erica recalled, "and got banners at Vista Print. And as we were setting up, the women next to us started asking how we'd gotten in their row. They could see we were new and they said businesses waited years to get that kind of placement. Someone had cancelled and we ended up in this great spot."
"For the first two hours though, not one person stopped to taste our product. But then someone finally did and minutes later, she walked back around the corner and said she wanted to place an order. I didn't even have order forms! I had to Google one, go down to the print shop and have it duplicated."
The good news was, Erica needed every one of those forms, because by the time she left that trade show, she had $80,000 worth of orders for her Shortstacks Pancake Mixes -- including orders from stores like Nordstrom and Von Maur. And she began getting calls from online sites that ran flash sales, like Fab.com and Gilt.
But she didn't give up her day job. The bills were coming in at an equal pace. So each day at 5:00 pm, she and Andre and any friends they could recruit, would head to their commercial kitchen and work late into the night.
"I had to keep feeding the company. I had to buy vanilla and pecans and bourbon salt and pay for the kitchen. But by the end of 2012, we had signed up for a trade show in Dubai and the Fancy Food Show in New York, and I realized I had to leave my job. I needed to get out of my comfort zone or I'd always have a part time breakfast company.
So, on January 1st of this year, the pancake entrepreneur put her full time job on the back burner and turned up the heat in her kitchen. In just nine short months, she's added seven more mixes, including flavors like sweet potato, oatmeal raisin cookie and strawberry shortcake. And she's begun a line of bacon rubs. The little experiment that began in her home kitchen is now on track to become a half-million-dollar business this year.
"When I first started out," Erica remembered with a smile, "I wasn't sure where to begin, but I knew who I wanted to be. I'm not saying it's easy. It takes courage to leave a job and a lot of perseverance. But once I decided that I wanted to follow my passion, I made sure I did something with food every single day."
"If you do something for 365 days straight, you'll be stunned by how much you can get done. A year ago I was doing my first trade show. Who knows what next year will bring?"