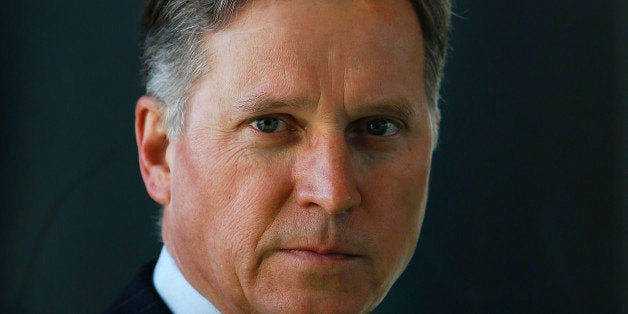 A Republican candidate for Texas attorney general told an anti-abortion group last week that China's so-called one child policy could unleash a plague on the country similar to the one described in the Bible.
Texas Railroad Commission Chairman Barry Smitherman, who is seeking the Republican nomination for attorney general, appeared last week before the Texas Alliance for Life to deliver a wide-ranging speech that largely centered on his opposition to China's abortion practices. He touched on a number of other abortion- and sex-related issues, arguing among other things that abortion rates have hurt the American economy. Smitherman's speech is posted at his campaign website and was reported by the Dallas Observer this week.
Smitherman discussed the Chinese policy, saying that it has hurt that nation, and then compared it to the Old Testament narrative about the enslavement of the Hebrews in Egypt. He noted that in the Bible, after pharaoh orders the drowning of the first-born sons of the Hebrews, some years later Moses warns the pharaoh that "10 plagues" would come to Egypt, including the death of the first-born sons, if he does not release the Hebrews.
"Attempts at genocide, like pharaoh's, do not go without inevitable 'reckoning.' In the case of the Egyptians, all their first-born, including pharaoh's son, were killed, and once mighty Egypt became merely a footnote in human history and a place where we used to visit (but not anymore since the 'Arab spring') the pyramids," Smitherman said. "In the case of China's one child policy, we have a modern-day example of what happens when a society does not honor 'life.' And like what happened to the Egyptians under pharaoh, this too, I predict, will end badly for the Chinese."
He also cited a Chinese professor as saying that the one child policy will bring about "Mother Nature's revenge."
Smitherman, who has four children, encouraged people to have lots of children in order to help the U.S. economy. He also argued that society needs to give more to help those with many children, and called for tax breaks for large families. He said that abortion caused a loss of 80 million Americans, which has impacted the economy.
"At a time when our federal debt is almost $17 trillion, having another $82.5 mm [sic] people, hitting their stride in the work force, would help to reduce our per capita debt obligations, but most likely would also produce meaningful additional GDP to propel our economy and I bet they would vote Republican," he said, according to the transcript posted to his website.
Smitherman told young men in the audience that they need to practice abstinence, but that they should be prepared to marry the woman if she becomes pregnant. But he encouraged them to marry at a young age in order to start having children.
Smitherman made headlines earlier this year for retweeting a tweet from a self-described "crazy writer" that included a photo that depicted nooses around the necks of Republican U.S. senators who voted to open debate on a gun control bill.
Smitherman was appointed to the Railroad Commission by Gov. Rick Perry (R) in 2011 and was elected to the seat in 2012. Republicans state Rep. Dan Branch and state Sen. Ken Paxton are also seeking the attorney general nomination.
BEFORE YOU GO
PHOTO GALLERY
GOP's War On Sex