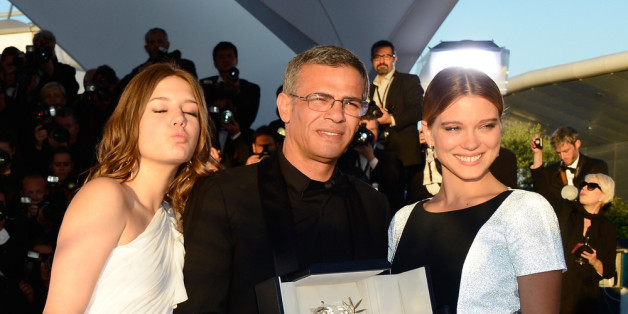 The strange saga of Palme d'Or winner "Blue Is The Warmest Color" took another turn on Thursday, with reports that director Abdellatif Kechiche brought star Léa Seydoux to tears during a press conference in Los Angeles, just days after the star described making the film as "horrible."
"How indecent to talk about pain when doing one of the best jobs in the world," Kechiche apparently said at the event (via Gala Magazine). "The orderlies suffer, the unemployed suffer, construction workers could talk about suffering. How, when you are adored, when you go up on red carpet, when we receive awards, how we can speak of suffering?" Kechiche also criticized Seydoux for her upbringing (her father is president of Pathe.)
Seydoux allegedly began crying after Kechiche's rant, according to Allocine. "I have given a year of my life to this film. I had no life during this shoot. I gave everything. I have not criticized the director," Seydoux said. "I ... I'm just complaining about [his] technique. It was my dream to work with him because, in France, he is one of the best directors. My family has never helped me. Let's stop talking about privileges."
Seydoux and co-star Adele Exarchopoulos spoke at length about making "Blue Is The Warmest Color" in an interview with The Daily Beast. The film includes a 10-minute sex scene between the two actresses which was shot over 10 days.
"He warned us that we had to trust him -- blind trust -- and give a lot of ourselves. He was making a movie about passion, so he wanted to have sex scenes, but without choreography -- more like special sex scenes," Exarchopoulos told The Daily Beast. "[H]e really wanted us to give him everything. Most people don't even dare to ask the things that he did, and they're more respectful -- you get reassured during sex scenes, and they're choreographed, which desexualizes the act."
"Blue Is The Warmest Color" will debut in the U.S. at the New York Film Festival in October before opening in limited release at the end of that month.