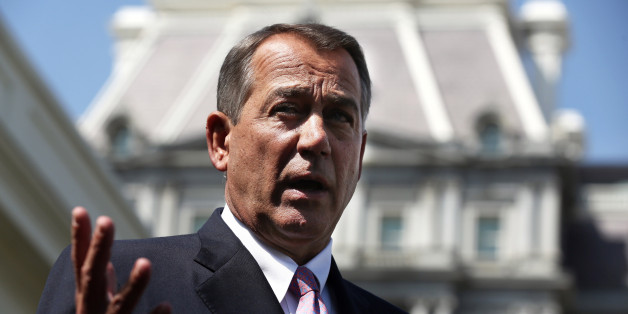 WASHINGTON -- The Speaker of the Syrian Parliament reached out to House Speaker John Boehner (R-Ohio) on Wednesday urging him to press members of Congress to block a U.S. military strike on Syria.
"We write to you as fathers and mothers, as members of families and communities which really are not so different to yours. Moreover, we write to you as human beings asking: if you bomb us, shall we not bleed?!" reads the letter Speaker Mohammad Jihad al-Laham sent to Boehner on behalf of the Syrian People's Assembly. "The innocent people will be harmed."
Al-Laham included a second letter that he asked Boehner to distribute to all members of the House of Representatives, as well as read aloud when the House begins its debate on the forthcoming Syria resolution. That letter emphasizes that the United States and Syria are two countries united in their opposition to terrorism and should be working together to fight it.
"We invite you to come to Syria to measure the situation before you cut -- especially when the cloth that will be cut is human flesh," it reads. "We can together generate a road map for a joint effective effort against terrorism."
The Senate is expected to vote on its Syria resolution next week, followed by House action. Boehner has already said he plans to support President Barack Obama's call for limited strikes against the regime of Syrian President Bashar Assad. The White House says it has evidence that Assad has killed more than 1,000 citizens through the use of chemical weapons -- and has spent the last several days briefing members of Congress on the details -- but many lawmakers are still undecided on whether to support military action.
In addition to making his appeal to Boehner, al-Laham writes that it would be illegal to attack Syria since it is a sovereign state that poses no threat to the United States. He notes that the United Nations Security Council hasn't adopted any such plan of action.
"We urge you not to rush into any irresponsible reckless action," reads the letter. "You have the power and the responsibility today to convert the United States of America from the war track to the diplomatic path."
A Boehner spokesman declined to comment.
BEFORE YOU GO
PHOTO GALLERY
Here's What Politicians Have Said About Syria