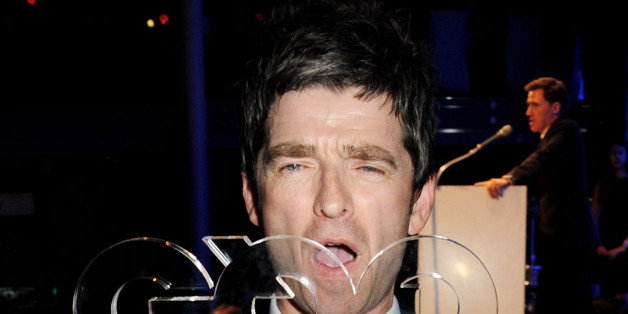 Noel Gallagher continued his life-long streak of pithy commentary at the GQ Men of the Year Awards on Wednesday, ripping into Rihanna and the U.K.'s foreign secretary, William Hague.
The former Oasis member was as harsh as his targets were diverse. Speaking with GQ at the event, he expressed his disgust at the size of Rihanna's entourage:
"I don't have an entourage, and when I do it's pathetic. Never more than two people. I was at a festival in Norway and Rihanna's just arrived with a hundred people. Fucking small army. And I had to go into this room, which was all just racks of clothing and stuff that designers and punters had brought to give to Rihanna. And they all had these cards in front of them, saying: 'Dear Rihanna, we are such huge fans, please accept this $90,000 handbag from whoever and whoever'."
The rocker, who was on stage to receive the Icon award, wasn't pleased to see Hague in the crowd at GQ's event. "Welcome to the Tory party conference, by the way," he said. "Nice to see the Foreign Secretary here with all the shit going on in the world that he should be sorting out. Good for you."
Gallagher and Blur frontman Damon Albarn recently ended their intense feud by performing together, and both have floated the idea of working with one another on new music.
Oasis called it quits in 2009, and Gallagher has recently been performing and recording as Noel Gallagher and the High Flying Birds. In 2011, he claimed his brother Liam, the other half of Oasis, attacked him during an unhinged rant -- an incident that Noel said caused him to finally quit the band once and for all. The bad blood has yet to be resolved.
More info on the night's events can be read over on NME.com.
BEFORE YOU GO
PHOTO GALLERY
Celebrity News & Photos