Shortly after police seized four satirical paintings of a lingerie-clad President Vladimir Putin in St. Petersburg, Russian authorities have taken issue with yet another explicit artwork.
Police raided an erotica museum in St. Petersburg this week, nabbing an X-rated portrait of Putin and U.S. President Barack Obama. The painting, created by artist Vera Donskaya-Khilko in 2011, shows naked, warrior versions of both leaders surrounded by an array of phallic symbols.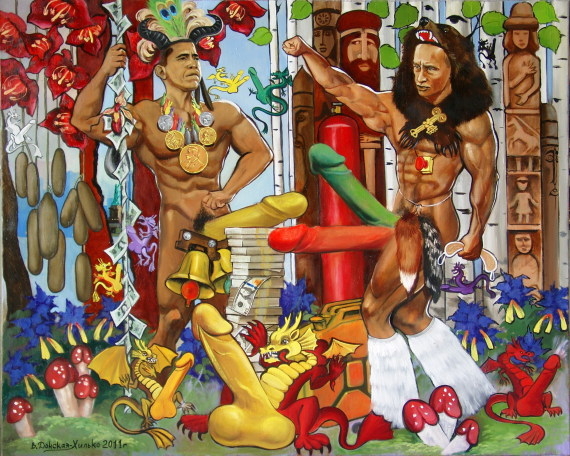 Vera Donskaya-Khilko, Wrestling, 2011, oil on canvas, 80 x 100 cm.
Authorities told the Russian Newspaper RIA Novosti that they were responding to "a report from citizens that there are paintings in the museum that might violate existing legislation." Alexander Donskoi, the owner of Tochka G (G Spot), has since announced that his erotica museum has been shut down, insinuating that the raid was political.
"I do not understand why it's necessary to mix arts and politics?" he explained to AFP.
In an email to The Huffington Post, Donskaya-Khilko explained some of the controversial imagery contained within the painting. "Barack Obama and Vladimir Putin are in a significant fight," she described. Putin is positioned next to a gas mask and fuel container, referencing his country's natural resources, wearing a traditional bearskin hat and fox tails. Obama is painted in front of a small Statue of Liberty and a staff of dollar bills with liberty bells hanging below his waist.
According to Donskaya-Khilko, the multi-colored dragons represent the Chinese people.
The painting seized by police is only a copy of Donskaya-Khilko's original painting, which hangs in Donskoi's erotic museum in Moscow. Just last year, a group of Orthodox missionaries "attacked" that location, criticizing the establishment's use of public advertisements.
Konstantin Altunin, the artist responsible for the four Putin paintings confiscated last week from the Museum of Authority, has reportedly fled St. Petersburg, while museum director Tatyana Titova has been detained by police for the second time. Both the raid on Altunin's work and the more recent raid on Donskaya-Khilko's painting occurred before the G20 summit in St. Petersburg, which begins September 5, 2013.