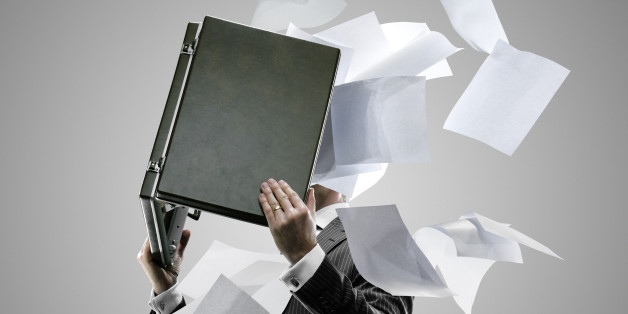 Americans are less supportive of military action in Syria than in past conflicts. EMILY's List launches a research and polling organization. And David Johnson, of Strategic Vision infamy, is baaack. This is HuffPollster for Friday, September 6, 2013.
THE ODD RETURN OF STRATEGIC VISION LLC'S DAVID JOHNSON - Politico's Dylan Byers: "In New York City mayoral news, a Republican consultant was quoted in the Christian Science Monitor this week saying that internal polling by the Joe Lhota campaign showed many voters are uncomfortable with Bill de Blasio's 'mixed marriage.' The only problem: The Lhota campaign has never heard of the guy. 'We don't even know who that [guy] is,' Jessica Proud, a Lhota campaign spokesperson told POLITICO. 'We've never shown him our internal polling, and we've never even polled for that question — nor would we.' 'That guy' is David Johnson, an Atlanta-based pollster who came under scrutiny in 2009 after his firm's polling methods were widely criticized by The American Association for Public Opinion Research [AAPOR], Nate Silver, and several others. [Politico]
The missing word is "fraud" - Byers omits something important about that criticism and scrutiny. Four years ago, AAPOR "raised objections" when Strategic Vision, LLC, Johnson's company, failed to disclose "essential facts" about its methods, and Nate Silver questioned whether the company had been "actually polling anyone at all." Silver ultimately pronounced himself "almost certain" that the company "is disreputable and fraudulent." [AAPOR, FiveThirtyEight here and here]
Johnson promised legal action and cross-tabs... - In response, Johnson told a half dozen media outlets that he planned legal action against AAPOR and Silver. He promised an Atlanta journalist that he would "release all the crosstabs, and put an end to this right now." But neither lawsuits nor cross tabs materialized. Instead, Johnson's company, which had released results purportedly from over 170 live interviewer polls from 2004 to 2009, simply stopped releasing data, and ultimately scrubbed all mention of polls from its website. [National Journal]
Johnson as news source - Despite the never-rebutted allegations of fraud, a series of journalists have continued to quote Johnson in their stories over the past four years, usually as an authority on corporate public relations. In recent months, for example, Johnson has been quoted as a PR expert by both the Associated Press and Businessweek. But some reporters have also quoted Johnson in campaign stories, including stories by both Fox News Latino and the Boston Herald in the fall of 2012, the latter of which identified Johnson as a "pollster." [AP, Businessweek, Fox News, Boston Herald]
Who is telling the truth? - The history provides some context for the odd contradictions reported by Byers in Politico on Thursday: Johnson twice tells Byers he was misquoted, saying "I wouldn't be surprised if there was internal polling...I was just speculating that there might be internal polling." And twice, Christian Science Monitor reporter Harry Brunius flatly contradicts Johnson's claims: Just before I got your email and story, I again confirmed with him that I quoted him correctly and in context. He twice told me on the record that he is familiar with both people and polling on the Lhota campaign. And that was even after he talked to you, it now appears...He did not tell me he was retracting his statement. He did not ask for a correction from the Monitor.'"
LESS SUPPORT FOR ACTION IN SYRIA THAN PAST CONFLICTS - HuffPost: "Americans are far less likely to support military action in Syria than they have been in the past 20 years to endorse other interventions, including the wars in Iraq and Afghanistan, a Gallup poll released Friday finds. Asked whether they favored or opposed the United States taking military action against Syria in order to reduce that country's ability to use chemical weapons, just 36 percent said they favored doing so, while 51 percent were in opposition. In comparison, a majority of the public supported action during the run-up to engagements in Iraq, Afghanistan and the Persian Gulf in 1991. Views on military intervention in Kosovo and the Balkans were about evenly split. In many of those cases, support rose once military action had started, according to Gallup, something known as a rally effect. 'Historically, Americans often rally around military actions once engagement begins, and should Congress authorize U.S. action in Syria, this may also heighten support for it -- if it occurs,' Gallup's Andrew Dugan writes. 'Currently, though, much of the nation would rather sit this one out.'" [HuffPost, Gallup]
EMILY'S LIST LAUNCHES RESEARCH AND POLLING ARM - Catalina Camia: "EMILY's List is branching out. The organization that helps elect women to political office is launching American Women, essentially a research arm with the goal of being the 'definitive resource' on issues that matter most to women and families....[For its first report,] the new organization held group chats online with independent women who had some college education and conducted a national survey of women who voted in 2012 to get a better understanding of the state of the American woman….Diane Feldman, president of the Feldman Group and the pollster who conducted the survey for American Women [along with Lisa Grove of Anzalone Liszt Grove], said there is 'pervasive concern' out there about the economy and jobs, even among women with incomes over $75,000 a year." [USA Today], American Women]
HUFFPOLLSTER VIA EMAIL! - You can receive this daily update every weekday via email! Just enter your email address in the box on the upper right corner of this page, and click "sign up." That's all there is to it (and you can unsubscribe anytime).
FRIDAY'S OUTLIERS' - Links to more news at the intersection of polling, politics and political data:
-HuffPost's data team tracks how members of Congress are likely to vote on Syria. [HuffPost]
-Rasmussen finds Terry McAuliffe leading by 7 points in Virginia - the sixth consecutive poll to show him ahead. [Rasmussen]
--51 percent of Americans can't identify Egypt when highlighted on a map.[Pew Research]
-Most Americans don't know who controls each chamber of Congress. [Monmouth]
-Ron Brownstein weighs in on the debate over whether Republicans can afford to focus only on white voters. [National Journal]
-Chris Mooney finds politics wrecks your ability to do math. [Mother Jones]
-Owen Thomas says the future of journalism is data driven. [Say Daily via @DrewLinzer]
-The UK's census may be at risk. [BBC via Flowing Data]
-The Analyst Institute is hiring a director of analytics. [Analyst Institute]
--20 wtf visualizations. [wtfviz via @AlexLundry]
-Fake New York Times/CBS poll finds majority of Americans approve sending Congress to Syria. [The Onion]