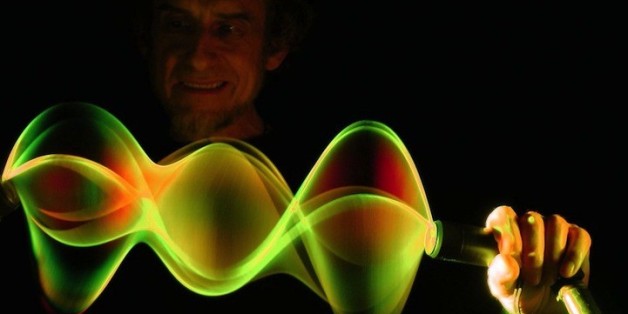 Incredible kinetic light sculptures from scientific artist Paul Friedlander are dazzling examples of what happens when science and art collide.
Friedlander, who was "raised in Cambridge on a diet of relativity and cosmology," studied math and physics at Sussex University under Nobel-Prize winning physicist Sir Anthony Legett -- experiences that have inspired Friedlander's artwork.
"I decided to focus on kinetic art: a subject in which I could bring together my divided background and combine my knowledge of physics with my love of light," he said in a written statement. "Light is the closest we come to directly sensing the universal energy. The chance interplay of form and color can inspire awe and wonder."
Friedlander said that a kinetic art show captured his imagination in 1970, and from then on, he began pursuing a passion for making his own light sculptures. His dazzling displays involve a relatively simple setup -- spinning strings and chromastrobic light. "Chromastrobic light changes color faster than the eye can see, causing the appearance of rapidly moving forms to mutate in the most remarkable ways," according to Friedlander.
For instance, here's what a handheld kinetic sculpture looks like in motion:
Scroll down for more amazing images from Friedlander's exhibitions: