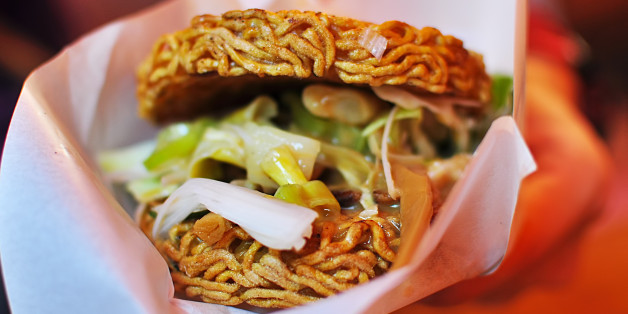 New York's latest hybrid food craze is touching down in Southern California!
Nope, we're not talking about the cronut (besides, knockoffs aplenty are already scattered around LA). It's New York's other foodie hybrid: the ramen burger.
Back when it debuted at Brooklyn's Smorgasburg event over a month ago, crowds waited in line for hours to try the sandwich, which is a ground beef burger between two buns made of ramen noodles. Ever since, ramen burgers have been selling out on the regular at the Brooklyn event, which prompted food writers to call it "the next cronut."
Ramen burger creator Keizo Shimamoto explained in a blog post that he's coming to the Mitsuwa Market in Torrance, Calif. on Saturday primarily to serve one person: his mom (aww).
"A week ago I had a dream that my mom would be able to try a Ramen Burger™, not an imposter [sic] but a REAL Ramen Burger™," Shimamoto wrote. The fact that he'll be able to serve hundreds of hungry Angelenos is just a happy coincidence.
Be warned: Shimamoto is promising only 500 burgers on Saturday. If the lines at Brooklyn's Smorgasburg are any indication, only very early birds will be getting their worm.
WHEN: Saturday, Sept. 7 at 11 a.m.
WHERE: Mitsuwa Market, 21515 S. Western Ave. Torrance, CA 90501
COST: $8
Just because Shimamoto will be in Torrance this Saturday, doesn't mean New Yorkers will be left out this weekend. His staffers are still serving Ramen Burgers at Smorgasburg in Brooklyn, where it all began.
"Ramen Burger™!! On both coasts!!!! What's next? Global??" wrote Shimamoto.
If you just don't have time to wait in line on Saturday, check out PopSugar Food's recipe on how to recreate the ramen burger at home.
Take a look at other people's renditions of the trendy ramen burger and flip through the slideshow below for more crazy hybrid foods.
PHOTO GALLERY
Food Mashups