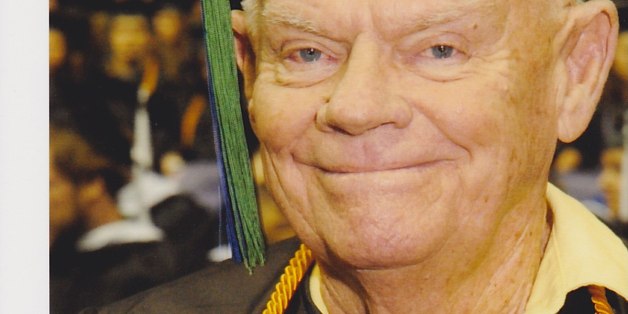 Terence "Terry" Sutherland gives new meaning to the phrase "lifelong learner." At 82, he just picked up his fifth college degree -- a bachelor's of art -- this past May.
The former Naval officer with a charming sense of humor, who's an extremely active resident at Azalea Trace Retirement-Life Community in Pensacola, Florida, grew up in Grand Junction, Colorado. His Navy career spanned 25 years and was followed by a stint in the Merchant Marines. (He also picked up a pilot's license along the way.) Now he's about to mark his 60th wedding anniversary while enjoying time with his 15 grandchildren and five great-grandchildren.
In celebration of National Grandparents Day on Sunday, Sept. 8, Huff/Post50 interviewed Sutherland to hear more about his life, views and tips for staying young.
So when did you get your first degree? How did that come about?

I joined the Navy in 1948 as a sailor. I went to the U.S. Naval Academy, where I got a degree in what would now be something like marine engineering. That was in 1954. Then I got a degree in electrical engineering in 1961. After that I attended classes at George Washington University and received a Master's in Manpower Management in 1964. After I retired, the VA helped me get a degree in real estate in 1975. My fifth degree I just received on May 4. That was for art.
What drove you to obtain all these different degrees?

Different things drive you at different times. For the first three, I was driven by the requirements of the Navy. If you wanted to be promoted, you took advantage of opportunities to educate yourself. I had to get the degree in real estate to actually do real estate. I think my wife encouraged me to get the last one just because she wanted to get me out of the house! I had been painting since I was 14 so I wanted to do art anyway. My grandfather was a cowboy artist in Colorado and he would take me to his place and show me how to paint.
You seem so young for 82. What keeps you going?

Well, I gave up smoking at 36. And six years ago I gave up drinking. It breaks my heart but it's really not good for your health. As far as exercise, the only thing I do is go to therapy when I have a specific health problem. But my day starts at 6 a.m. and I do a lot so I feel like I'm always moving. I run the art room here at the retirement community. As far as running around the block... I gave that up a long time ago.
And how long have you been married?

We got married in 1954 on graduation day -- June 4. I married my high school sweetheart of eight years. We were good kids in those days. We didn't do anything wild. We went back in 2004 for our 50th reunion and visited the Naval Academy Chapel where we married.
What's the secret to a long and happy marriage?

It's very simple. We've been married this long because I do everything I'm told. I jump up and do the best job I can. In return, my wife waits on me hand and foot.
I hear you also have been a sort of "rent-a-grandpa" for your young 20-something fellow college students.

Yes, they tell me things they wouldn't tell anyone else, like about how much they dislike their parents for something or other. When you first see them, they have tattoos and purple hair and all this sort of thing, but then you get to know them, and some of they are really very sweet.
And you have 15 grandchildren and five great-grandchildren?

Yes, I'm always turning to my wife and asking 'what's that kid's name again?'
What advice do you pass on to them?

Just two four-letter words: hard work. There's no substitute for it.
Do you have a story to share with us? Email us at SayItOnHuffPost50@huffingtonpost.com. (PR pitches are not accepted at this address.)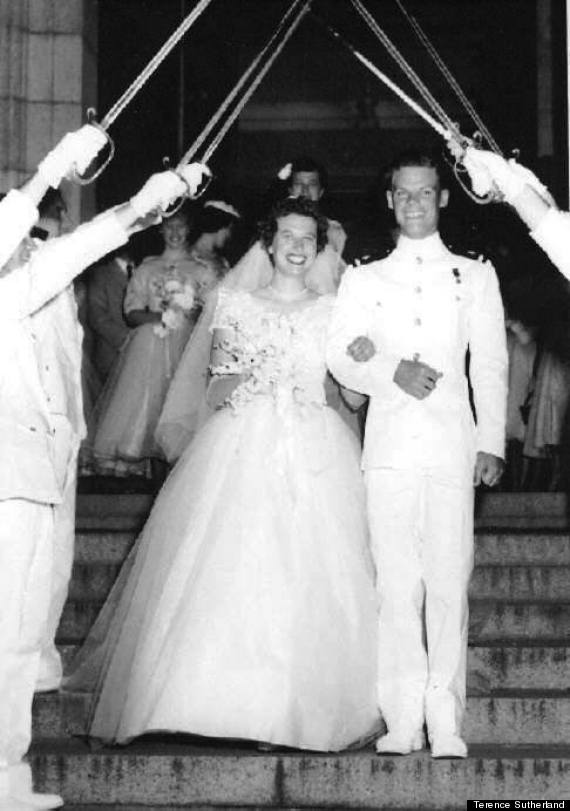 BEFORE YOU GO
PHOTO GALLERY
Terence Sutherland: 82 Year Old Picks Up 5th Degree