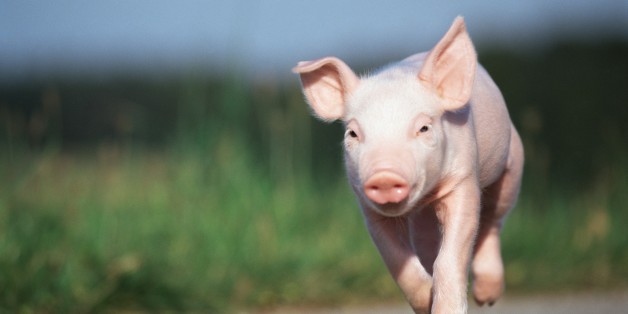 Score one for the pigs and ferrets.
A medical school located just outside the nation's capital, in Bethesda, Md., announced this week that it would no longer use live animals in its training programs, according to an Associated Press report:
The Uniformed Services University of the Health Sciences said Thursday it began phasing out the use of live animals with the opening in 2000 of the National Capital Area Medical Simulation Center. The school says it now uses simulators to teach surgical skills and physiology.
The Physicians Committee for Responsible Medicine has long petitioned USUHS to stop its use of ferrets, pigs and other animals. The animal advocacy group also asked for a criminal investigation into USUHS' animal practices.
"We are shocked and we didn't think they would change. It's pretty exciting," PCRM spokesperson Jeanne Stuart McVey told the Washington Post.
According to the paper, USUHS stopped training students to do intubations on live ferrets in 2008, after complaints from the PCRM and military doctors, but did not cease all live animal trainings until more recently:
In the surgery lab, students performed several procedures on pigs, involving cutting open the abdomen, chest and internal organs as well as inserting drainage tubes into the chest, both while the chest was closed and after opening the chest. After the procedures, the pigs were killed, according to documents obtained by the committee via a Freedom of Information Act this spring.
You can watch a graphic training video of a pig's use in surgery training, put online by the Physicians Committee, here.
The advocacy group is now asking the four U.S. medical schools still using live animals -- the University of Mississippi Medical Center, the Oregon Health & Science University School of Medicine, the University of Tennessee Health Science Center College of Medicine and Johns Hopkins University School of Medicine -- to switch to medical simulators.
And, in case you want to see what medical simulation looks like (we certainly did!), here's a video of a mannequin giving birth:
BEFORE YOU GO
PHOTO GALLERY
100 Most Threatened Species