Welcome to O's rousing roundup of awe-inspiring people, places and things that bowled us over, choked us up and lifted our spirits high.
1. Nothing But Net
In 1997 painter Janet Echelman moved to India on a Fulbright Lectureship -- but her paints, which she'd shipped separately, never arrived. One day while walking on the beach, she noticed the massive nets being used by local fishermen; unlike her abstract paintings, "they were able to change and move, and were soft but also incredibly strong," she recalls. She decided to experiment -- and, working with the fishermen, produced her first woven sculpture, a jellyfish-like self-portrait she called Wide Hips. Now her enormous, billowing creations hang in cities around the globe, from an airport terminal in San Francisco to a plaza in Porto, Portugal. She chooses her materials -- netting, mesh -- for fluidity, which contrasts sharply with the urban environments where her pieces live. "In big cities we're surrounded by concrete chasms, by glass and steel," she says. Her sculptures serve "a greater need for softness," providing a shared experience of awe in a hard-edged world.
Echelman's sculpture 1.26 Amsterdam, at left, captivated passerby from December 2012 to January 2013.
-- Zoe Donaldson
2. Collective Muscle
At 6:30 A.M. each Wednesday, roughly 400 academics, moms, marathoners, and recovering couch potatoes pour into Harvard Stadium in Boston to run all 37 sections of stairs -- 1,147 steps total. They're part of the November Project, a massive thrice-weekly group-sweat organized by two former college rowers, Bojan Mandaric and Brogan Graham, who wanted to stay in shape throughout the winter. What started as friends meeting for simple workouts grew to include friends of friends and strangers, summoned via Facebook and Twitter; to date, more than 2,000 people have participated. But it's not just the newly toned quads (or the price: $0) that keeps everyone coming back. Says Mandaric, "It's the high fives, the vibes, the hugs." (Also in San Francisco and Madison, Wisconsin; november-project.com)
-- Emma Haak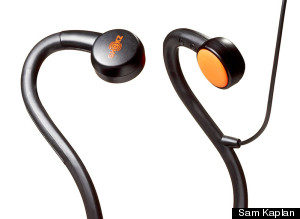 3. Using bone conduction technology originally developed for military special ops, these headphones transmit vibrations directly from your cheekbones to your inner ear, bypassing the eardrum -- and leaving you free to crank up Nicki Minaj without drowning out voices or car horns. ($80; aftershokz.com)
4. British newspaper editor Alan Rusbridger learned -- "over 16 months of snatched private moments" -- Chopin's nearly ten-minute-long Ballade No. 1 in G Minor, one of the most difficult piano pieces ever written. Read about Rusbridger's obsession in his inspiring, diary-like new book, Play It Again.
5. That's The Spirit
"At first people tend to think they're either elegant or weird," says Chelsea Briganti, 30, of the edible "glassware" she created with two design school pals. "But in my experience, no one can refuse a bite." Festive, biodegradable Loliware comes in citrusy Bitter Bitters (pairs well with gin cocktails), tangy Salty Lime (great with tequila), and tart Sour Lemon (helps Champagne pop). Made from pectin, a gelling agent derived from fruits, the cups are surprisingly durable, and Briganti hopes they'll help replace disposable plastic -- and spark delicious conversations -- at parties. ($195 for 48; loliware.com)
-- Nicole Frensée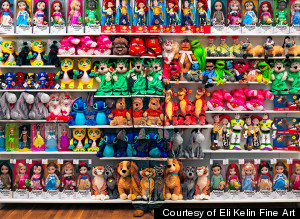 6. Chinese artist Liu Bolin loses himself in his work -- literally. In this photo, Hiding in New York No. 7 -- Made in China, 2012, he had himself painted into a background of toys. Having trouble finding him?
7. The natural beauty of America, as captured by the U.S. Department of the Interior's glorious Instagram feed (@usinterior).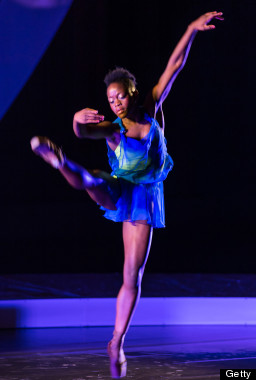 8. The Life Story of Michaela DePrince
In 1999 4-year-old Michaela DePrince was living in an orphanage in Sierra Leone, having lost both her parents to a civil war. But when she found a picture of a ballerina in an old magazine, "it gave me hope," she recalls. She squirreled away the photo until she was adopted by a couple from New Jersey, who enrolled her in dance class. In 2012 DePrince became the youngest member of the acclaimed Dance Theater of Harlem; next she'll be touring with the Dutch National Ballet's Junior Company. Onstage, "I feel like I'm not even in my body," she says. "I still can't believe I get to do everything I always dreamed of."
-- Kate Sztabnik
9. Salad Days
Daniel Humm is the chef at New York's Eleven Madison Park, which has been called the best restaurant in America. Now, thanks to his charming new cookbook, you can make this perfect late-summer salad at home (don't worry, it's impossible to get wrong).
Get the recipe
10. A House For The Price Of A Handbag
Detroit's shrinking population has made the city a real estate bargain bin where homes sell for as little as $500 at auction -- yet many properties still sit vacant. The Web site Why Don't We Own This? features an interactive map with ownership information and color-coded foreclosure status. With just a few clicks, developers and young couples alike can seek out diamonds in the rough, neighborhood groups can identify lots for community gardens, and homeowners can find resources to help prevent foreclosure. Says founder Jerry Paffendorf, "I want us to see America's problems and opportunities in a way that we can act on."
-- Courtney Balestier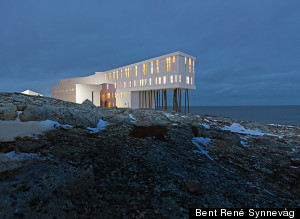 11. The Beacon
The Fogo Island Inn sits high on a rocky promontory jutting off the far eastern coast of North America, in Newfoundland, Canada, 1.5 hours ahead of Eastern Time and a world away from civilization as we know it. Yet it boasts high-end comforts like an art gallery, a talented young chef, and a rooftop sauna from which it's possible to glimpse icebergs bobbing in the vast, coal-black Atlantic. The hotel was built by Zita Cobb, a retired Canadian tech executive who grew up in a small village on the island and returned to help grow the local economy, which was decimated by a ban on cod fishing (the result of years of commercial overfishing). Cobb notes that the inn, which opened in the spring, was constructed with local wood, employs 65 people, and hopes to attract international tourists. "If Fogo Island is going to survive, we have to remain relevant. We have to be woven into the fabric of the world, but on our own terms."
-- Zoe Donaldson
12. Get Sauced
Created by a former manager for rock star Jon Bon Jovi, Mázi Piri Piri hot sauce has a tomato base spiked with lemon juice, garlic, and whiskey. But it's the fiery piri piri peppers -- grown in New Jersey, of course -- that add wow to anything from eggs to chicken to pizza. ($12; sicklesmarket.com)
-- Lindsay Funston
13. A Body Scanner You'll Happily Step Into
Shopping for jeans may be less self-esteem-pummeling than shopping for bathing suits -- but just barely. A new scanner uses technology similar to the TSA's to bounce low-power radio waves off your body and relay 200,000 measurements to a computer, which then matches you with brands, sizes, and styles that actually fit. So you'll no longer have to stuff yourself into 20 pairs of expensive sausage casing before settling for new sweatpants. (In nearly 30 malls nationwide; me-ality.com)
-- Abbe Wright
14. Fourteen HIV-positive adults in France are in remission-- and living medication-free -- after being aggressively treated following their diagnoses. Scientists aren't calling them "cured" -- but we've come a long, long way from the 1980s.
15. The Most Riveting TED Talk Ever
In which Hyeonseo Lee recounts escaping from North Korea at age 14, sneaking back over the border to smuggle her family out, the Chinese police boarding their bus, and -- oh, just go watch the whole amazing video yourself! (ted.com)
16. Meet the World's Smallest Robot
RoboBee, developed by researchers at Harvard University and the Wyss Institute, is an insect-size robot about a 30th the weight of a penny. In the future, he may pollinate crops, provide military intelligence, search for survivors in a disaster zone, and even rouse your partner from the couch to help do the dishes.
-- Emma Haak
17. The New Director of the Secret Service
Julia Pierson, 54, a former police officer and 30-plus-year veteran of the agency, is its first female head. Said President Obama, "I couldn't be placing our lives in better hands."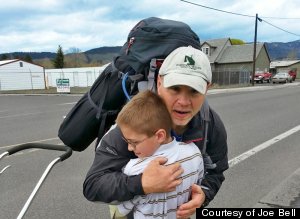 18. One Step at a Time
In a hotel in rural Idaho, Joe Bell nurses his aching, blistered feet. He walked 30 miles today along a green stretch of Interstate 84, turning in for the night only when he "couldn't take another step." Exhausted but determined, Bell plans to keep walking for as long as it takes -- two years, he estimates -- to travel a winding route from his Oregon home to New York City, where his 15-year-old son, Jadin, had always wanted to live. Jadin committed suicide earlier this year after being harassed in school for being gay. Bell, distraught and restless, quit his job at a plywood plant and hit the road in April, carrying little more than a sleeping bag and a tent. (His wife and younger son will visit him along the way.) As he walks, Bell is stopping at schools and community centers to offer support to struggling teens and convey to bullies that "the pain they cause is long-term." One day, while trekking through Boise, he shared dessert at a local diner with a gay teen who had recently switched schools after being bullied. Bashful at first, the boy was smiling by the end of the conversation. "He said he wanted to move to New York City, too," reports Bell. "I talked to him about how once you're out of high school, there's so much more to live for."
-- Sarah Beauchamp
19. With Instant Prescription Eyeglasses, Imagine All the People Seeing 20/20.
These colorful retro glasses -- styled in homage to John Lennon -- use fluid-injection technology to let wearers instantly adjust the prescription with the twist of a removable dial, no doctor required. And for each pair purchased, another is donated to Rwanda, a country with more than 12 million citizens and fewer than 20 eyecare specialists. ($123 to $163; adlens.com)
-- Abbe Wright
20. Good on Paper
When Kavita Shukla visited her grandmother in India while still in middle school, she accidentally brushed her teeth with tap water. Her grandmother concocted a "murky brown spiced tea" for her to drink -- and Shukla never got sick. Back home in Maryland, Shukla discovered that the spices in the tea inhibited bacterial growth. "I dipped some strawberries in the mixture," she recalls, "and they stayed fresh for days."
Shukla, now 28, turned her grandma's home remedy into FreshPaper, a small biodegradable sheet that, when placed in a crisper or fruit bowl, keeps produce fresh two to four times longer than normal. Over the next year, she's partnering with nonprofits in developing countries to ship FreshPaper to some of the roughly 1.2 billion people in the world who lack refrigeration, including small-scale farmers in India and Africa who sometimes can't sell their crop before it spoils. ($25 for 40 sheets; Whole Foods Market locations)
-- Lindsay Funston
21. The Answer To Your 8,356 Unread E-Mails
A young techie explains: "Recently, I signed up for Mailbox, and my in-box has never been cleaner. I love the 'delay' option, which lets me schedule messages to be redelivered, say, in the evening -- when I can more fully focus on my mom's computer problems." mailboxapp.com
-- Bryan Farevaag, O deputy art director, digital
22. If you're the type of optimist who buys five-inch platform heels on clearance, thinking, 'I just need to break these in!,' do yourself a favor and pick up Band-Aid Friction Block Stick. This miraculous roll-on foot lube -- it looks like the world's tiniest deodorant -- will prevent too-snug, too-new, too-cute shoes from cheese-gratering your feet ever again. ($6; drugstore.com)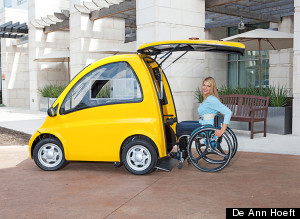 23. On a Roll
In 2010 Stacy Zoern -- who uses a wheelchair because of a congenital neuromuscular disease -- felt trapped in the ten-block radius in Austin where she lived and worked as an attorney. Public transportation was near impossible, and, after totaling an $80,000 van, she'd shied away from other large retrofitted vehicles. When Zoern found a Hungarian company, Kenguru, that was developing small electric cars for the wheelchair-bound, she called their offices. Soon she was raising investment money and convincing Kenguru to relocate to Austin. Now she's running the company, which will release its first cars -- at a price of about $20,000 -- this year. "It's about giving people with disabilities a cost-effective, better quality of life," she says.
-- Zoe Donaldson
24. Poof!
Jennifer Dionne, PhD, assistant professor of materials science and engineering at Stanford University, knows how to make small items like a penny or a coffee cup disappear. "We're now able to steer light around an object and have it emerge on the other side as if it never interacted with the object -- making it appear invisible," she explains, adding that a life-size, Harry Potter–style invisibility cloak is "definitely possible."
-- Emma Haak
25. Clean Plate
Sarah Britton's gorgeous blog, My New Roots, is a haven for anyone who wants to reap the nutritional benefits of kale, quinoa, and chiaseeds without feeling like she's eating cardboard. "I want to make delicious food that just happens to be good for you," explains the Canadian holistic nutritionist, who lives in Copenhagen. Britton's lushly photographed recipes -- parsley root fries, butternut squash lasagna, a raw brownie made from cacao and Medjool dates -- will make you forget you ever wanted butter or steak in the first place.
-- Candice Rainey
26. Score!
How to Use Hukkster, the World's Easiest Online Bargain-Hunting Tool
1. Visit hukkster.com and drag the "hukk it" button to your bookmarks bar.
2. While perusing online stores -- from Saks to Walmart -- click on the button to flag, or "hukk," anything you like; enter your size.
3. Wait for an e-mail or text informing you that your item has gone on sale.
4. Congratulate yourself on getting a deal on that [perfect trench, whimsical couch pillow] you've been lusting after.
-- Candice Rainey
28. The Scoop
At Robyn Sue Fisher's San Francisco ice cream shop, Smitten, a patented machine called the Brrr uses minus 320 degree liquid nitrogen to speed-freeze organic milk, cream, sugar, and whatever else is in season -- honey-nectarine for July, sweet corn with blueberries and raspberries for August -- into the most decadent ice cream you've ever tasted. Fisher, 34, invented the machine after graduating from business school in 2007 and learning that great ice cream is all about temperature (the faster it freezes, the smoother the texture). Now, amid a cloud of chemistry-lab-like vapors, the Brrr makes dense, velvety ice cream in about 90 seconds as customers wait.
-- Bonnie Tsui
29. Up On The Roof
A new start-up called BrightFarms wants to bring farmers' market produce to your grocer—by building a farm nearby or even on the store's roof. The company's pilot greenhouse in Pennsylvania grows about 500,000 pounds of produce for several stores; by 2015, BrightFarms plans to open at least seven more farms across the country (including three on rooftops). But it's not all about carbon footprints, says Paul Lightfoot, the company's CEO: "Just wait till you try our tomatoes."
-- Lindsay Funston 30. The Finisher
Accountant Julie Weiss of Santa Monica ran her 52nd marathon in 52 weeks to raise money for pancreatic cancer research after losing her father to the disease. "I was so overwhelmed when it was all over," she says, "by emotion, pride, and the love from everyone I met along the way. I felt like I was a mirror, showing people that you can push through anything." -- Arianna Davis
31. The Tiniest Sculptures You've Ever Seen
When Connecticut carpenter Dalton M. Ghetti was a boy in Brazil, he sharpened his pencils with a pocket knife -- a skill he now applies to the miniature still lifes he carves on the ends of number 2 pencils using a razor blade and a sewing needle (but no magnifying glass -- "at least not yet," he says). "They're a meditation," says Ghetti, who can take years to complete a single piece and refuses to sell his work. "I don't do it for the money; I do it for the simple pleasure it brings me." (daltonmghetti.com)
32. Fit to Be Tied
A third-generation dandy whose father and grandfather wear three-piece suits for no particular reason, Moziah "Mo" Bridges says that dressing up makes him feel "like an important person." As a 9-year-old, Bridges was inspired by the bow ties being worn by singers like the Jonas Brothers, so he asked his grandmother to teach him to sew. Now he makes bow ties in a dizzying array of vintage fabrics, ginghams, tweeds, silks, and satins, selling them online and at boutiques throughout the South. Explains Bridges, "My family helps sew, because I have to go to school." (mosbowsmemphis.com)
-- Jeryl Brunner
34. Cheese Whizzes
Crafted by a French cheesemaker, a cheesemaking instructor, a biochemistry professor, and vegan chef Tal Ronnen, White Alder is silky and pungent, with a delicate, bloomy rind. Surprisingly, it hails not from a cow or goat but from almond and macadamia nuts. It's part of a new dairy-free-cheese line called Kite Hill, crafted and aged using traditional French cheesemaking techniques.
-- Bonnie Tsui
35. The Skinny
The MelaFind, which looks like a hair dryer fit for Darth Vader, is a skin scanner that has been shown to detect 98.3 percent of melanomas on the spot. Using technology originally developed by the Department of Defense to target missiles, the device creates a three-dimensional model of a mole and compares it with 10,000 other nevi; in less than a minute, your dermatologist knows whether to be worried. (Currently in more than 150 doctors' offices around the country, with more shipping this year.)
-- Emma Haak
36. Drones -- Yes, Drones -- That Can Save The World
A company called Matternet has tested unmanned aerial vehicles, or "drones," in Haiti and the Dominican Republic, where it hopes to help deliver medical supplies and food to areas that lack reliable roads. "Most people associate the word drone with war," says Paola Santana, one of Matternet's cofounders. "Well, we're trying to use them for good." By 2020, the drones may even deliver those shoes you bought online to your door -- in an hour.
-- Rachael Mt. Pleasant
37. Rising Star
This is what happens when you listen to British singer-songwriter Lianne La Havas for the first time: You gasp in disbelief that a 23-year-old's voice could be so clear, warm, deep, and wise; you marvel that it's equally stunning on rhythmic pop anthems (like the infectious "Is Your Love Big Enough?") and big ballads (the plaintive, lovelorn "Lost & Found"); and you suddenly remember how you felt when you first heard Aretha or Whitney or Adele -- like if you could listen to only one singer for the rest of your life, you'd be happy for it to be her.
-- Ashley Williams
38. Finally, a Pot That Stirs Itself
Invented by a Japanese dentist, the Kurukurunabe (which translates, roughly, to "pot round and round") comes with a notched insert that causes water to swirl in a circular motion and boil faster -- unless, perhaps, you're watching it. ($228; amazon.com)
39. The Little Black Dress, Reinvented
Consulting for famous fashion brands on their manufacturing techniques, Natalia Allen saw "some atrocious practices" in mills and factories. Among them: rivers being polluted by dyes and workers being exposed to toxic chemicals. Which is why her minimalist LBDs (they also come in white and taupe) are made by robots -- who were not exploited, to our knowledge -- in New York. Each creates minimal waste by using a single piece of yarn sourced mostly from fast-growing trees. Seamless, lightweight, easy to throw in a suitcase, the dresses are so uncannily slimming you'll want to wear them forever -- which is, of course, the point. (nataliaallen.com)
40. This quote:
"The bigness of the world is redemption. Despair compresses you into a small space, and a depression is literally a hollow in the ground. To dig deeper into the self, to go underground, is sometimes necessary, but so is the other route of getting out of yourself, into the larger world, into the openness in which you need not clutch your story and your troubles so tightly to your chest."
-- Rebecca Solnit, The Faraway Nearby
41. In The Bag
Almost 23 million checked bags are lost or misplaced in airports every year. Now, thanks to a new palm-size tracking device called Trakdot Luggage, yours won't be one of them. Slip the gadget into your suitcase, and when you land, it sends a text or an e-mail letting you know it arrived as well -- or was accidentally rerouted to Des Moines. ($50 plus $9 activation fee and $13 annual service fee; trakdot.com)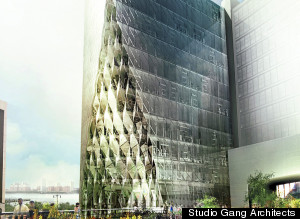 42. Sun Queen
New York City's planned Solar Carve Tower, designed by architect Jeanne Gang -- and situated along the High Line raised railroad-track park -- will take its shape from the geometric path of the sun's rays over lower Manhattan, allowing maximum sunlight to reach the park and preserving views of the Hudson River. But just as impressive as the building's engineering is its facade (see a digital rendering, left), barnacled with kaleidoscopic panels of glass, jaggedly razor-cut out of the sky.
-- Zoe Donaldson
43. A Simple, Gorgeous Bouquet That Lasts Longer
The Bouqs offers 40 elegant, minimalist arrangements, with nary a sprig of baby's breath in sight, for a flat rate of $40, including shipping to anywhere in the United States. Because they're sent straight from sustainable Ecuadorian farms, where they're grown in sun-drenched, mineral-rich volcanic soil, the flowers arrive just four days after being cut (versus six to 14 for many florist-bought arrangements). (thebouqs.com)
-- Abbe Wright
44. This colorful, retractable dog leash features a pop-out water bowl, a storage bin for treats, a baggie receptacle, an LED flashlight, and an LCD clock. ($26; fredflare.com)
45. College, Take Two
With 300-plus free online courses -- Moralities of Everyday Life, Archaeology's Dirty Little Secrets, Women and the Civil Rights Movement -- all taught by professors at 62 of the world's top schools, including Yale and Stanford, the Web site Coursera reads like the course catalog you wish you'd taken advantage of in college. The company's goal is to allow every person in the world access to an Ivy League–caliber education -- without the frat parties and calculus requirement. (coursera.org)
-- Abbe Wright
46. Mail-Order Molten Chocolate Cakes in Mason Jars
These adorable Take-n-Bake Molten Chocolate Cakes, from Seattle's beloved Hot Cakes Cakery, might more accurately be described as Stop-n-Moan. They need just 15 to 20 minutes in the oven to achieve a perfectly moist outer shell and an ultrarich, gooey center. Each supposedly serves two, but trust us, you won't be sharing. ($8 each; getyourhotcakes.com)
-- Lindsay Funston
47. Into the Woods
One morning last April at Campowerment, a women-only sleepaway camp in Malibu, a 44-year-old "camper" named Ivy Lasky was watching with teary eyes as her bunkmate stood on a 35-foot-high platform and listened to a Kashmiri energy healer tell her to jump into her dead mother's arms. Lasky, a talent executive and mother of two, had come to these idyllic woods with 87 other women -- but no men, or kids, or cell service -- for "a little me time," she says.
What she found was that camp had grown up. Started by 53-year-old "Extra" senior producer Tammi Leader Fuller, Campowerment is an adult take on the bug juice (now spiked with vodka), arts and crafts (now with vision boards), and evening sing-alongs (now no longer mandatory) many of us remember from childhood, stuffed into one long weekend. Fuller's own camp experience affected her so deeply -- "There was something about the camaraderie of girlfriendship I never forgot"—that she's packed Campowerment with life coaching, journaling, and cooking demonstrations designed to help women realize that "you're not alone in your struggle to juggle what life has thrown at you," she says. Besides: "Sweatpants are the great equalizer." (In four locations across the country; campowerment.com)
-- Doree Shafrir
48. Shakespeare's Star-Crossed Lovers -- More Modern Than Ever
Explains David Leveaux, director of Broadway's first Romeo & Juliet in 36 years -- which happens to feature a white Romeo and black Juliet: "I didn't set out to make a comment on race. I just followed my nose. Orlando [Bloom] has this wonderful boyish charisma -- you don't want your Romeo to be a wimp -- and Condola [Rashad, daughter of Phylicia] can channel Juliet's heart and wit. She's electrifying. They both inhabit the language in a way that makes the audience hear it as contemporary."
49. Gulp!
Once upon a time, while visiting Ohio, deputy editor Deborah Way had a beer. Back at O, she regaled colleagues with the tale: Warm, woodsy, deep and dark, this pint was redolent of the oak barrels in which it was aged. The only problem: It wasn't yet sold in New York. Undeterred, deputy managing editor Amy Grippo took to the Internet and announced, "Guys, we can order it online." Huzzah! (Alltech's Lexington Brewing Kentucky Bourbon Barrel Ale, $11 for four-pack; thepartysource.com)
-- Katie Arnold-Ratliff
50. This Comet Is 1.1 Times The Width Of Australia And Barreling Our Way at 55,000 MPH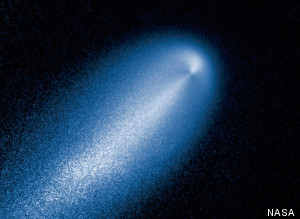 A mass of ice, gas, and dust, Comet ISON -- scheduled to blaze brilliantly across our sky in late November (don't worry, it's not going to hit us) -- "could be the comet of the century," says Michael A'Hearn, PhD, professor emeritus at the University of Maryland. Scientists caution that it may burn up before we have a chance to see it, but A'Hearn, for his part, "would bet at least a beer" -- a Bourbon Barrel Ale, perhaps? -- "that it won't."
-- Emma Haak
Keep in touch! Check out HuffPost OWN on Facebook and Twitter .

BEFORE YOU GO
17 Things You Can Find That Make You Feel Awesome:
PHOTO GALLERY
7 Indulgences That Aren't Actually Bad for You