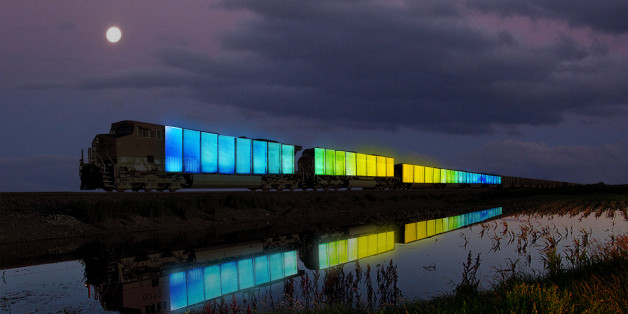 Artists, nomads, culture-junkies and transportation enthusiasts alike have been counting down the days until Doug Aitken's big artsy road trip finally launched. And today, ladies and gentlemen, it happened. The train last left the station.
The multi-disciplinary aesthetic experience kicked off last night with an epic New York happening, featuring performances by Suicide, Ariel Pink's Haunted Graffiti and No Age. Kathryn Andrews, Olaf Breuning, Thomas Demand, Meschac Gaba, Rirkrit Tiravanija and Lawrence Weiner provided artworks, along with the man Doug Aitken himself.
Moving images were provided by the masters of the field, including Ryan Trecartin, Yayoi Kusama, Kenneth Anger, Raymond Pettibon and many, many more. Not too shabby for a bon voyage affair.
The sold-out evening bodes well for the nomadic voyage, which will travel to San Francisco over the course of the month. Check the Station to Station website to see if Aitken's party train is stopping in your city on its grand journey west. You never know just who is going to hop on the bus -- punk icon Patti Smith was recently added to the Minneapolis bill.
Check back for updates on the art world's hottest vehicle.
Station to Station: A Nomadic Happening from Station to Station on Vimeo.