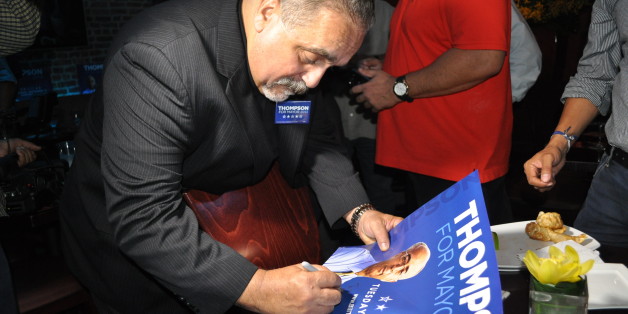 NEW YORK -- When Bronx-born trombonist Willie Colon wanted to get behind Bill Thompson's campaign, he did what he does best -- he wrote a song.
"He came to transform what was already old / His goal is to support the vulnerable ones," Colon sings against a soft piano introduction, before launching into a driving beat punctuated by horn lines to praise Thompson's positions on public education and health care.
"I'm Willie Colon and I support Billy Thompson for mayor of New York," the singer says in Spanish as the song draws to a close. "Billy Thompson identifies with Latinos and has always kept a space at his table for our community."
The video fielded nearly a quarter million views after he uploaded it to YouTube in July. Since then, he's penned two more similarly successful Thompson songs, each taking between two and three hours to compose.
"Some songs take a year, but you can't take a year to write a campaign jingle," Colon told The Huffington Post. "There's a sense of urgency."
Trotting out entertainment stars to attract attention is common practice for political campaigns in a city overflowing with money and celebrities. Bill de Blasio's got actors Susan Sarandon, Cynthia Nixon and Alec Baldwin. Christine Quinn's got television stars Whoopi Goldberg, Candice Bergen and Brooke Shields. But for a candidate vying for Latino votes in Dominican- and Puerto Rican-heavy neighborhoods in Northern Manhattan and the Bronx, Colon's star power rivals that of the familiar faces on prime time TV.
The trombone player is a titan in the world of salsa and people from Venezuela to the Bronx grow up dancing to classics he helped make famous, like "La Murga de Panama" or "Pedro Navaja."
Colon's digital support isn't limited to YouTube. He also tweets his support constantly to his 1.8 million followers on Twitter. Virtually every newspaper endorsement for Thompson -- El Diario, the New York Observer, and Newsday among them -- appears on Colon's timeline in all caps, multiple times, in English and in Spanish. It's difficult to measure the local impact of Colon's tweets -- many of the retweets and comments about Thompson come from accounts in Venezuela, where Colon has a huge following both because of his music and his searing criticism of late President Hugo Chávez and his successor Nicolás Maduro -- but the Thompson campaign credits Colon with giving them a major social media boost.
"Willie's been out there at a number of events – a couple with me, some on his own," Thompson told HuffPost. "And the response is over the top ... Willie's just an icon. That's the only way to describe him."
Politics are nothing new to Colon. He ran an unsuccessful campaign for a congressional seat in 1994. He met Thompson back in 2000, while the politically active musician was running for public advocate, a race he also lost.
"He struck me as a sensible, level-headed person," Colon said of Thompson. "He's been at it for years. No scandals. Even-tempered. I never heard him speak really badly of anybody. There's a lot of guys who can get all worked up, but how long can that really work? We need somebody that's an executive and administrator who knows how to run things."
Colon also said he admired Thompson's support of public education -- particularly his interest in boosting arts and music education in public schools -- and his opposition to the recently overturned "stop-and-frisk" policing policy.
It isn't just about what the candidate stands for -- the Bronx-born Nuyorican also relates to Thompson's background.
"He doesn't need to roll out anybody in his family," Colon said, in a veiled reference to de Blasio, whose campaign has given a prominent role to his African-American wife Chirlane McCray and 15-year-old biracial son, Dante. "He's already black. He knows what it means to be black. He's Caribbean, so that helps him relate to Latinos. He understands that pretty good."
The data appear to support Colon's impression. Thompson won two-thirds of the Dominican vote of Northern Manhattan when he ran against New York Mayor Michael Bloomberg in 2009, according to The New York Times.
But winning the Latino vote this year in a hard-fought Democratic primary has proved more difficult than the last time around. Early polling showed Councilwoman Christine Quinn leading among Hispanics, and both she and frontrunner Bill de Basio have released Spanish-language ads to appeal to the city's growing Latino demographic.
Colon shrugged off the ads, saying that for politicians to reach Hispanics, they have to spend more time in the neighborhood.
"They have to show up," Colon said. "That's probably 90 percent of it. Not just pop up at the last minute. They have to know your face and see you around. Latinos are very brand loyal. If you're around enough, they stick to you."
Colon has committed to showing up with Thompson at a string of campaign events as the Sept. 10 election draws near. Most polls place Thompson second behind de Blasio. If no one wins more than 40 percent of the vote on Tuesday, the top two candidates will head to a runoff election.
The Thompson campaign featured the musician as the main draw for a campaign event Thursday night at 809 Restaurant, Bar and Grill in Washington Heights. With classic salsa blaring, Colon mingled with Thompson's supporters over chicken fingers and sangría and gave interviews to the press.
The salsa star's celebrity has its limits, however. Thompson's campaign team nearly outnumbered the guests at Thursday night's event.
Those that did attend called Colon's political activism an inspiration.
"He's has the opportunity to travel all over the world and yet he doesn't forget where he's from," Marlon Barrera, a 45-year-old Ecuadoran immigrant who's spent 20 years living in Washington Heights, told HuffPost in Spanish. "He doesn't forget the word 'poor.' Politicians only know two words: 'rich' and 'middle-class.'"
As a musician, Colon considers himself in good company when campaigning for Thompson.
"You could tell he's got good taste because of the musical talent he'd have at his events," Colon said. "We'll see if we can get him to dance."
BEFORE YOU GO
PHOTO GALLERY
10 Celebrities Who Challenge the Racial Binary: Afro-Latinos