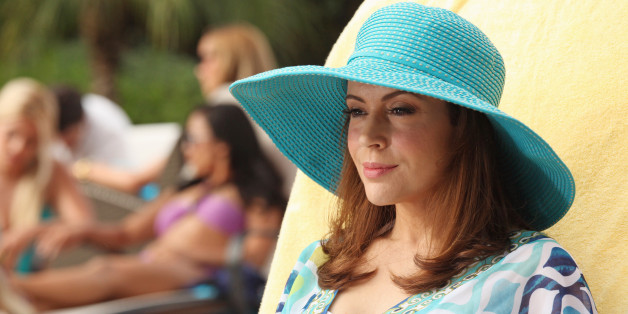 "Mistresses" is coming to an end and all will be revealed in the finale.
On the summer series, Milano plays Savannah 'Savi' Davis, a lawyer who has an affair with a colleague while trying to start a family with her chef husband.
"I play a woman that cheats on her husband in the first episode," series star Alyssa Milano told The Huffington Post while promoting Febreze's new Sleep Serenity collection. "And she gets pregnant and she doesn't know who the father of the baby is. So, in the finale we will definitely know who the baby daddy is."
"Mistresses" also stars Yunjin Kim, Rochelle Aytes and Jes Macallan. Milano said the role was challenging.
"It was hard to play a woman whose life is completely unraveling based on a decision that she made," she said. "It was a very emotional time because our writers were smart enough that they tried to stay true to what a person would actually be going through, they didn't glorify what she had done, so it was a lot of emotional stuff to play, which was rewarding, but challenging."
Here's ABC's official description of the "Mistresses" finale titled "I Choose You":
A road trip to Palm Springs for Savi's birthday takes a shocking turn; April makes a decision about the two men in her life, Paul (Dondre' T. Whitfield) and Richard (Cameron Bender); and Elizabeth Grey confronts Karen in a final showdown, on the Season Finale of "Mistresses," MONDAY, SEPTEMBER 9 (9:00-10:00 p.m., ET) on the ABC Television Network. Penelope Ann Miller guest stars as Elizabeth Grey.
Watch a preview of the "Mistresses" finale below.
"Mistresses" airs Monday, 9 p.m. ET on ABC.
BEFORE YOU GO
PHOTO GALLERY
Summer TV Guide