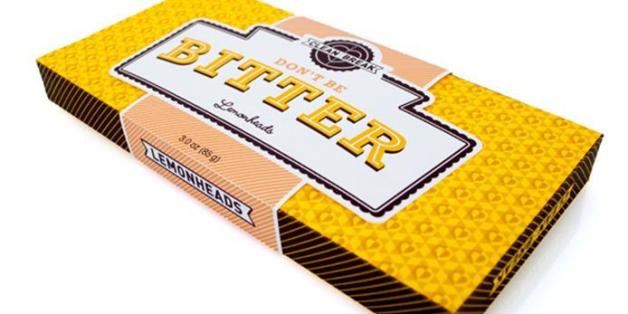 Most people think of giving chocolate as a romantic gesture. It's one that's often done at the beginning stages of a courtship or, more stereotypically, on Valentine's Day. But if you think about it, chocolate is way more appropriate at the end of a relationship, not the beginning. It's when we're feeling heartache that we most need those feel-good chemicals that chocolate releases.
That's why we were thrilled to see that Kathy Mueller, a design student, came up with a concept for break-up chocolate called Clean Break. It just makes sense. Forget the red, heart-shaped chocolate boxes you get at the drugstore, Mueller's design offers a chocolate bar with the message "Don't Be Bitter" written on it in big, bold letters. It's to the point (and also appropriately flavored with sour lemonade). Finally, someone understands chocolate's true place.
Her two other concept Clean Break confections include "Don't Be Salty," a bacon chocolate bar, and "Don't Be Snappy," a simple maple syrup candy. The concept doesn't stop at the sweets, but also comes with a gift bag and a fill-in-the-blank break-up message (see below). Mueller says that this concept was designed with the hope "that mismatched lovers can share a laugh in an awkward moment, and perhaps even start a lasting platonic friendship." We're not sure it will have that effect, but we can say for sure that break-ups would go down a lot sweeter if they always came with chocolate.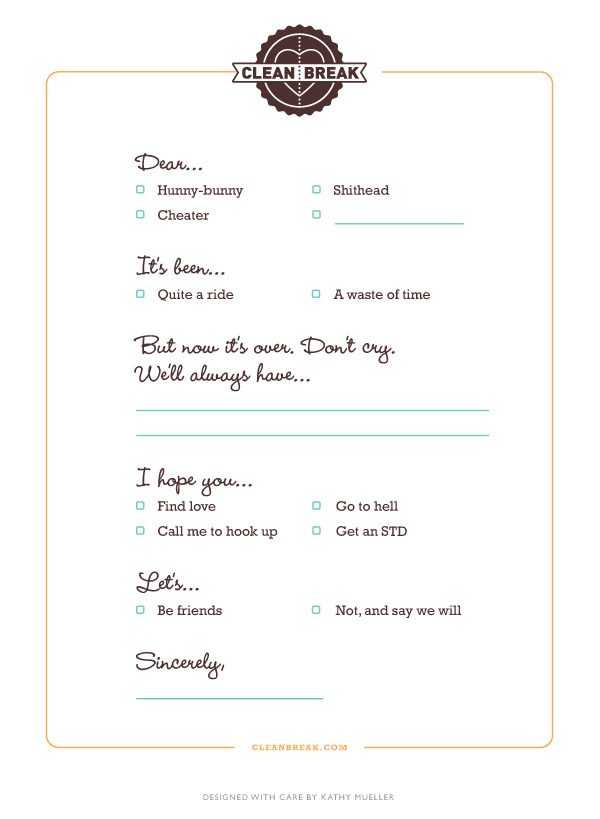 Want to read more from HuffPost Taste? Follow us on Twitter, Facebook, Pinterest and Tumblr.
Don't wait for a break up to eat chocolate, try these recipes.
PHOTO GALLERY
100 Chocolate Recipes