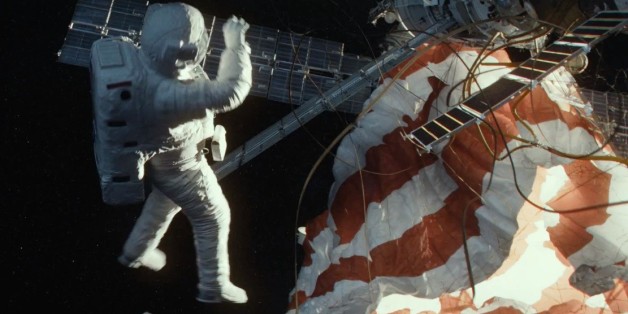 Alfonso Cuaron's new film "Gravity," about two astronauts struggling to make it back to Earth after an accident incapacitates their space shuttle, premiered at the Toronto International Film Festival on Sunday night. The film won praise from critics and awards bloggers for its technical prowess and lead performance from Sandra Bullock, just as it had after screenings at film festivals in Venice, Italy and Telluride, Colo. What, however, does an actual astronaut think of Cuaron's vision?
"Fortunately, the five months I spent on the space station were way calmer," Canadian astronaut Chris Hadfield said to Cuaron (via TheWrap) after the premiere. "But the visuals were spectacularly good. I don't know how you did it."
Cuaron spent more than four years making "Gravity," and told HuffPost Entertainment in an interview back in July that he planned everything out in specifics before even shooting. "We animated the whole film before. We could have released an animated version with the voices of Sandra Bullock and George Clooney," he said.
On his Twitter page, Hadfield, a former commander of the International Space Station and the first Canadian to walk in space, also had high praise for Bullock:
Good morning! Gravity was fun last night. Fantastic visuals, relentless, Sandra Bullock was great. I'd fly with her. pic.twitter.com/dxRkTZbYHh

— Chris Hadfield (@Cmdr_Hadfield) September 9, 2013
In addition to being an astronaut, Hadfield is also known for his cover of David Bowie's "Space Oddity," which he performed in space.
"Gravity" is out on Oct. 4.
[via TheWrap]
PHOTO GALLERY
2013 Toronto International Film Festival