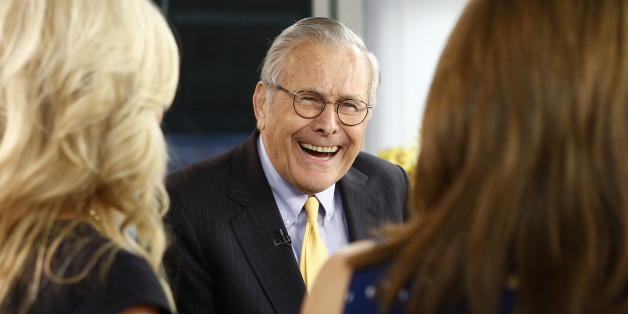 Donald Rumsfeld is famous for carefully considering his words and taking deliberate, seconds-long pauses before answering questions. It's perhaps unsurprising, then, that director Errol Morris, whose "The Unknown Known" documentary is showing at the Toronto International Film Festival, says interviewing Rumsfeld is still a mystifying experience.
"It was one of the strangest and most interesting and puzzling interviews I've ever done," Morris told the Hollywood Reporter of the sit-downs that laid the foundation for "The Unknown Known." The director, who grilled former Sec. of State Robert McNamara for the Oscar-winning documentary "The Fog of War," has experience facing off against architects of war. This time, Morris sat down with Rumsfeld for what was supposed to initially be two days but turned into 33 hours spread across 11 days.
Morris describes Rumsfeld's obsession with language as more than just a simple fascination:
When we think of words and the definition of words, I immediately think of George Orwell because he wrote so extensively about it. Orwell was obsessed with language and how language could be used to manipulate people. But I don't think that's what's going on here. It's something stranger. Words become for Rumsfeld his own way to regain control over reality and history as he feels it slipping away. I'm not sure I'm even characterizing it correctly either, but there's something strange and powerful about it. If somehow he gets the right word or the right definition of words, everything will be OK. America will win the war in Iraq, the insurgents will vanish. It's all a problem of vocabulary.
Here's the press room soundbite that inspired the title for the film -- and aptly illustrates Rumsfeld's sometimes convoluted manner of speaking.
This year's Toronto International Film Festival (TIFF) has lived up to its reputation as a breeding ground for Oscars buzz, with the likes of "Gravity" and "12 Years a Slave" among the heavy favorites. Last year, both "The Master" and "Silver Linings Playbook" debuted at the fest. For more on TIFF, check out our earlier and continuing coverage. For more on "The Unknown Known," head over to THR.
BEFORE YOU GO
PHOTO GALLERY
2013 Toronto International Film Festival