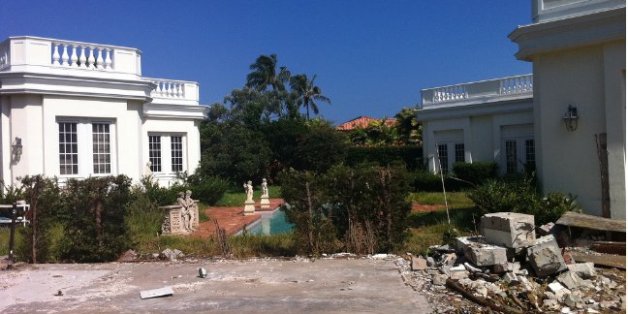 Residents of one of Oahu's most expensive suburbs have the neighbor from hell. In fact, it's almost like they have 27 neighbors from hell. Genshiro Kawamoto, a Japanese billionaire in his eighties, owns 27 multi-million-dollar mansions over a 1.5-mile stretch of Kahala Avenue, an oceanside stretch of road that the New York Times called the "Beverly Hills of Oahu."
But Kawamoto does not live in any of the properties. And he seems to be doing his best to make sure almost no one would want to live in, or even near, the properties.
The homes that Kawamoto has not totally demolished, he has largely let go to ruin. Many are covered in grafitti, their pools filled with rubble, windows boarded, and tennis courts cracked and covered by overgrowth.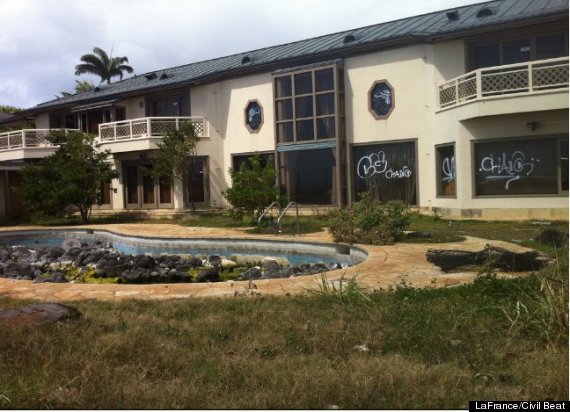 Many of the lots where beautiful 1930s estates once stood now hold dozens of bizarre statues placed among construction rubble. One lot is covered in Greco-Roman figures. Another two lots (for which Kamamoto paid over $30 million and then demolished the homes so that he could build a tea garden) holds Japanese statues as tall as 18 feet. And with no obvious associated theme, enormous lion statues stand roaring toward passerby on Kahala Ave. Rumors abound that Kawamoto wants to turn at least one of the estates into a commercial museum, but he claims the statues are his "personal art."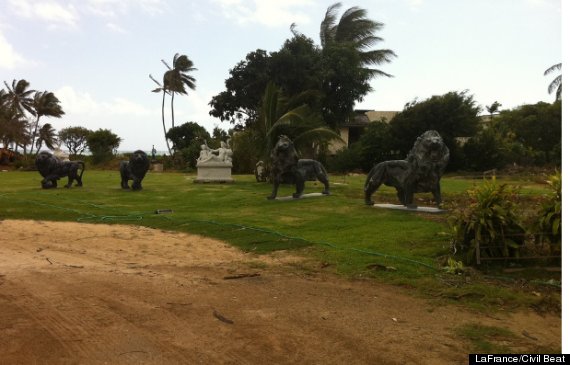 Kahala residents accuse Kawamoto of purposely letting the homes go to waste, driving down property values so that he can buy more, lower-priced, homes. "He wreaks havoc in the community and is a terrible neighbor," said Kahala resident Mary Charles in an interview with Civil Beat. Despite calling "Kawamoto Land" a "nightmare," Charles refused to sell her home to Kawamoto when he offered her $1 million over market value. "Our home is a home, it's not a commodity," she said.
As of March 2013, the city of Honolulu had issued Kawamoto over 65 notices for violations such as littering, and he had paid more than $42,000 in fines. But fines of that amount are chump change to the billionaire, who has spent well over $100 million to buy up all the properties.
Not all of Kawamoto's properties are vacant. In 2007, he selected several homeless families of Native Hawaiian descent to each live in one of his houses rent free. Dorie-Ann Kahale had been living in a shelter with her five daughters until Kawamoto gave her the keys to a four bedroom, four-and-a-half-bath home. Kawamoto promised Kahale she could live in the home for ten years, but it is not clear how much longer the Japanese real estate tycoon will be the keeper of his decrepit domain.
So what will happen to Kawamoto Land? Ever since its namesake was arrested in Japan this March for allegedly failing to pay over $10 million in taxes to the Japanese government (Kawamoto bailed himself out for $5 million), speculation has increased that he will soon sell all of the properties, most likely to a large Japanese corporation that will sell them to individual buyers.
Neighbors are almost unanimously in favor of the sale, and of Kawamoto being penalized further for the blight he has caused the neighborhood. What does Kawamoto think of his critics? He answered Hawaii News Now in one, matter-of-fact word: "Jealous."
Check out a slideshow of Kawamoto Land from the Civil Beat .
BEFORE YOU GO
PHOTO GALLERY
10 Homes Over $100 Million Dollars