When Joshua Woods' fishing hook came out of the water with a dirty sock, he almost threw it out.
But it's a good thing he didn't, because inside was a wallet that had been stolen more than three years ago.
"I was pretty amazed to catch a wallet, last thing I expected," Woods told HuffPost, "I was immediately stoked to try to find the owner."
Woods posted a photo of his find on Facebook, and soon friends of friends were able to connect him with Jesse Gomez, the owner of the wallet.
Gomez's first comment on the photo was, "You have got to be kidding me."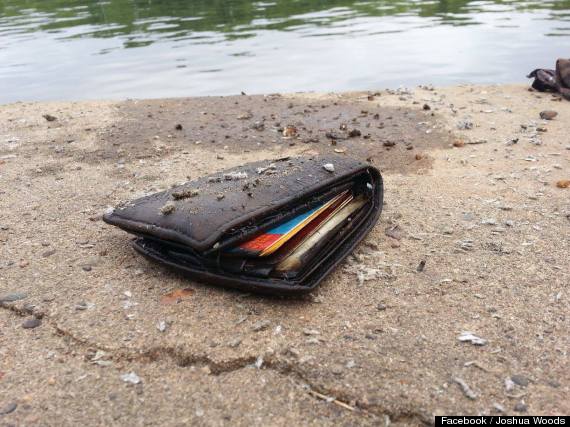 According to WKBT, the wallet was stolen in 2010 while Gomez was working at a karaoke bar.
"I'm just like, crap that's my wallet," he told WKBT. "I was just definitely shocked, I'm like you've got to be kidding me, this is not happening that you guys found my wallet."
Woods admits there was a time when he might have thought twice about returning the wallet. WKBT reports that he spent 10 years in prison for forgery crimes, but he's since turned his life around.
"Everybody seems to think I'm some great person for recovering the wallet and returning it," he told HuffPost, "But what else was I going to do? Certainly not throw it back! Either way good karma is flowing. I hope people keep it up!"
H/T: WKBT
BEFORE YOU GO
PHOTO GALLERY
The Most Heartwarming Moments Of 2012