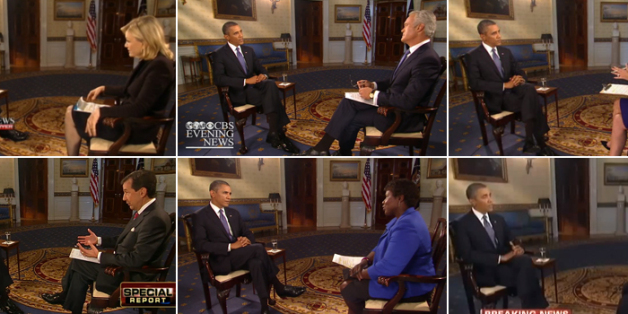 President Obama sat down with anchors from PBS, CBS, ABC, NBC, CNN and Fox News on Monday to continue making his case around the ongoing conflict with Syria.
All of the interviews lasted for seven minutes. All of them aired at around the same time. All touched on the same topic. Given that, there was bound to be, well, a whole lot of repetition.
Luckily, we've watched all the interviews, and we picked up on some of the questions that got asked over, and over, and over, and over, and over again.
THE RUSSIAN THING:
Savannah Guthrie: "Syria's Foreign Minister said to today that Syria would consider placing international inspections around its chemical arsenal. Do you believe it? Are you skeptical? Do you think it might be a stalling tactic?"
Chris Wallace: "There has been this interesting development. The Russians say they're going to push Syria. Will you delay a strike?"
Diane Sawyer: "If Bashar al-Assad yields control of his chemical weapons to international authority, are we back from the brink?"
CONGRESS
Wallace: "Would you delay a Congressional vote until you see where this goes?"
Guthrie: "If this resolution fails in Congress, would you act without Congress? Be it-- the answer could be, yes, no, or, 'I haven't decided.'"
Gwen Ifill: "You don't regret taking it to Congress?"
NOBODY LIKES THE IDEA OF ATTACKING
Scott Pelley: The people aren't with you.
Ifill: How do you persuade Congress and the American people who ... are overwhelmingly not in favor of this?
UH, WOLF BLITZER WAS ALL BY HIMSELF ON THIS ONE
Wolf Blitzer: "What I'd like you to do, Mr. President, if you're amenable to doing it, look into the camera, talk directly to President Bashar Al-Assad. Tell him specifically what you think he must do to avert a U.S. military strike."
Obama: "You know, uh, I don't need to talk into the camera. I suspect he's, uh, he's got people who will be watching this."
"Had you discussed this when you were in St. Petersburg?"
BEFORE YOU GO
PHOTO GALLERY
Barack Obama Style Evolution